Pandemic shopping habits become the new normal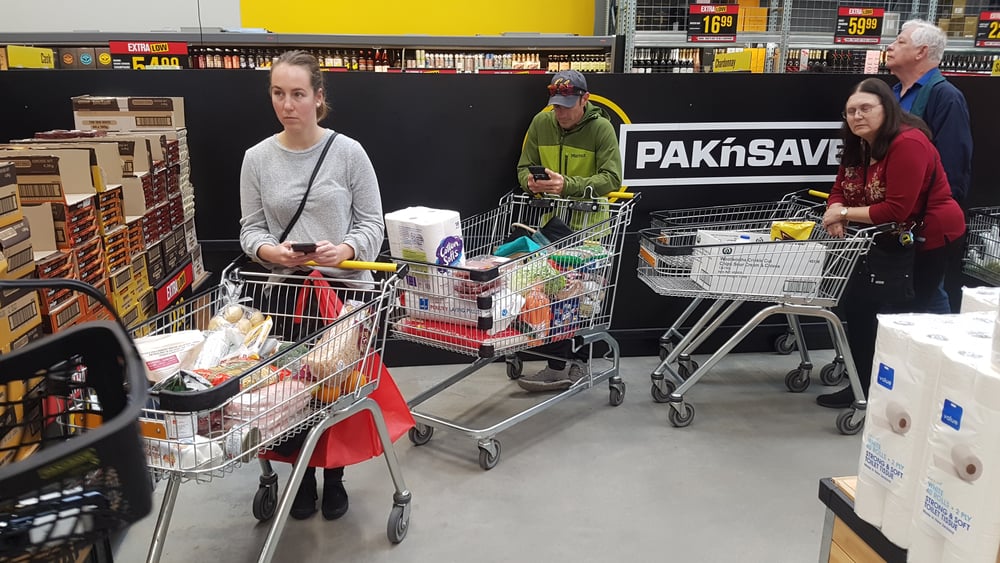 Marketers know how crucial consumer buying behavior trend data is for planning marketing strategies
The COVID-19 pandemic saw shoppers frenzy-buying in bulk with the idea that things may not go back to the way they were.
Boy, were they right!
From stockpiling essentials to an increase in online buying, consumers have changed the way they spend as a result of the pandemic, and the market is quickly adapting to the change.
With the arrival of the COVID-19 pandemic and quarantine, consumer behavior practically changed overnight, and it now seems that many of these habits will persist after the pandemic ends.
So what does the new buying behavior look like?
Consumer confidence amidst COVID-19
A McKinsey report on consumer sentiment analyzed the data behind how consumers in countries around the world feel about their economies coming out of COVID-19.
The US ranked the top in consumer sentiment, as Americans felt the most optimistic about their nation's economic health after COVID-19. On the other side of this spectrum, European consumers were the least optimistic about the prospects of their countries' economic health following COVID-19.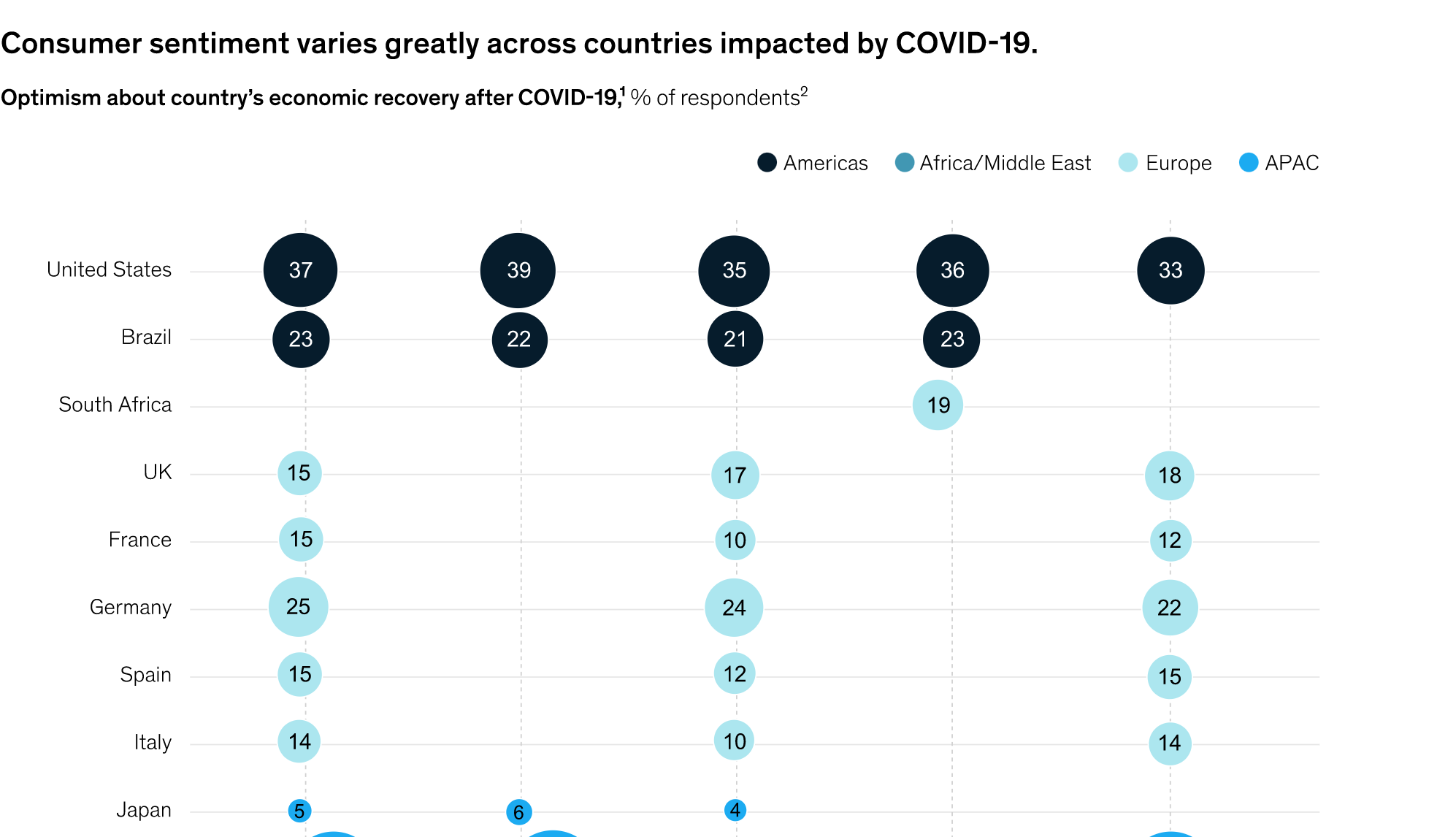 Although many consumers are still practicing social distancing and at-home isolation, there's been a recent uptick in spending as more and more companies are trying new ideas to bring their services right to the consumer's front doorstep.
The Mckinsey report states:
"Consumers continue to spend significant time on home-based activities. To work around restrictions, consumers have adopted digital and low-touch solutions like videoconferencing, curbside pickup for groceries, and telemedicine. Looking ahead to the next 'normal,' around 40 to 60 percent of surveyed consumers who adopted these new products and services intend to continue."
In other words, the quickly-adopted COVID-era spending habits are likely to stay with us for a while.
Even though digital buying and selling have long been on the rise, COVID-19 has truly made it the new way of life.
So, what should we expect?
Rise in e-commerce
Considering that pretty much everything is obtainable just by the press of a button on your computer or mobile device, the pandemic's primary effect has been to foster even more online shopping than before.
While physical locations were closed, online purchases soared. Even now that places are slowly opening back up, we are still seeing more and more consumers opting for the convenience and safety of shopping right from their homes.
According to SuperMarket News;
"U.S. online grocery sales grew 22% in 2019 and, propelled by high demand from nationwide COVID-19 lockdowns, stand to surge about 40% this year...E-commerce accounted for roughly 2.6% of U.S. food and beverage retail sales in 2019, but the projected growth in online grocery activity would raise that sales percentage to 3.5%, or nearly $38 billion."
Focus on health and wellness
Wholesome, healthy living has been a growing trend, well before COVID-19.
However, due to the residual strain and stress of this pandemic, as well as the precautionary measures to keep ourselves and loved ones safe, the marketplace is seeing more people adopt healthier lifestyles.
Items such as immunity-boosting supplements, safe household cleaning supplies, at-home fitness and meditation, and tele-health are all making waves and may be here for good as options moving past the pandemic.
Creating an at-home oasis
COVID-19 saw many people lose their jobs, many children do at-home schooling, as well as many companies close their physical doors and accommodate work from home practices in order to stay in business and keep people safe.
Consumers are upgrading their homes with cosmetic upgrades as well as building gardens and creating zen spaces — especially as travel plans had to be canceled.
Now that areas are opening back up, this may still be the way things are going to stay, with more individuals choosing to stay home and enjoy their surroundings.
"Staying in is the new going out. Once restrictions are lifted, we expect consumers to continue spending more time at home, driven by a desire to save money, persistent safety concerns, and a new-found pleasure in nesting."
The new normal
At a time when we unsure about so much, marketers can be sure of one thing, the importance of consumer behavior.
In order to understand the needs of the consumer, one must understand their habits and how they are navigating the digital world to search and find what they need.
The surge of millions of online customers changing their buying behavior, opting for a more convenient and expeditious shopping experience, has raised the bar for digital marketers and online businesses.
Consumers are relying heavily on companies like Amazon, Target, Walmart, Instacart, and Uber Eats, to name a few.
If these companies can expedite orders and accommodate the customer's needs without interruption in their everyday lives — all while implementing safety for their workers as well as customers — they can solidify marketshare and consumer trust.
For example, Amazon, with its convenient partnership with Whole Foods, not only covers everyday basic needs but also offers the convenience of shopping for groceries and other home basics all on the same platform with expedited delivery.
Consumers value what they trust, and in difficult times like these, they should be able to trust the products and platforms they rely most heavily upon.
It is impossible to know what the coming days, months, or years will look like coming out of COVID-19, but when we listen to customers and adapt accordingly, we position ourselves well.
We're seeing an evolution in the way consumers are purchasing, driven by the need to address a global crisis. As marketers, we can use this information to learn, reflect, and understand how we can maneuver in this ever-changing atmosphere.
Free Assessment:
How does your sales & marketing measure up?
Take this free, 5-minute assessment and learn what you can start doing today to boost traffic, leads, and sales.