Subscribe
Join 40,000+ sales and marketing pros who receive our weekly newsletter.
Get the most relevant, actionable digital sales and marketing insights you need to make smarter decisions faster... all in under five minutes.
Thanks, stay tuned for our upcoming edition.
Shopify's surge tells complex story of doing business in coronavirus (COVID-19) era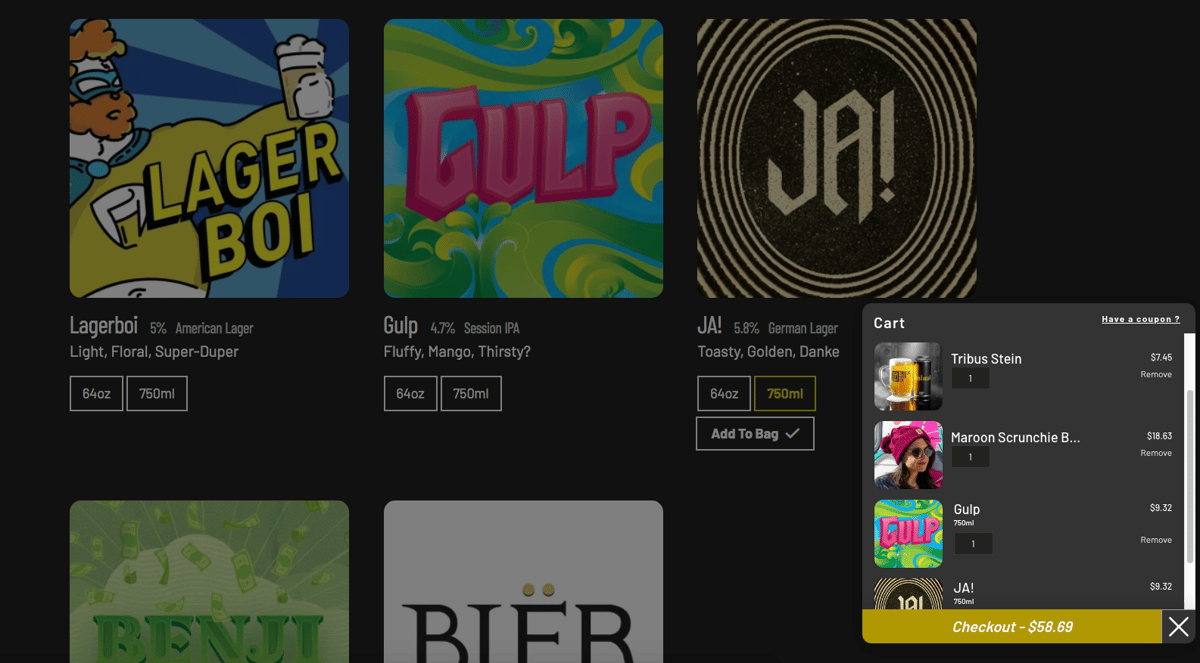 Today, my eighth week of being quarantined alone in my apartment draws swiftly to a close. In honor of this occasion, I have finally (and reluctantly) accepted my shut-in status.
"I didn't choose the shut-in life, the shut-in life chose me," etc.
As I shared in yesterday's issue of THE LATEST (our "thrice-weekly" newsletter), although I've struggled to feel productive throughout this pandemic, I am proud of a few things I've accomplished during this time.
For example, I have resisted the mind-boggling trend of making banana bread — why has this become a thing, why?! Also, I've leveled-up my cooking repertoire by learning how to make a better tiramisu recipe.
🔎 Related: View all of our coronavirus expert insights, guidance, and strategies
Cooking exploits aside, there is one other undeniable trend that has emerged out of my perpetual homebound status; a trend I'm unsure as to whether I should categorize as a positive or a negative:
Beer babies must be protected at all costs. Safety first.
On a (more than) regular basis, I do my part as a U.S. citizen to stimulate the economy by supporting businesses via their e-commerce shopping platforms.
At this point, I'm basically a walking advertisement for "athleisurewear" from Old Navy and Ann Taylor Loft, I've succumb to more Instagram ads than I care to admit (I'm currently waiting for my New Mindset Journal to arrive), and I don't know how I'm not already on a first-name basis with everyone who works the curbside pickup at Tribus Beer, one of my absolute favorite local breweries in Connecticut.
Whether this is a good thing or a bad thing, I can at least take comfort in the fact that I'm not alone.
🔎 Related: Yelp and Shopify release omni-channel updates during COVID-19
Even with record-breaking unemployment numbers and depressing daily reports of businesses announcing they will not reopen following the coronavirus (COVID-19) pandemic, e-commerce platform giant Shopify recently announced sales had exploded, with a 47% increase from the same quarter one year ago.
But there's more to this story than Shopify's meteoric rise.
Shopify's new growth tells a complicated story of e-commerce in this "new normal"
Shopify's success is an exciting development in the e-commerce world. That being said, other numbers shared by the Shopify team in the same report paint a more complex and sometimes fraught picture of what reality looks like for many companies.
For instance, the gross volume of merchandise sold through its point-of-sale systems plummeted by 71% between the end of March and April 24.
We shouldn't be surprised, of course. Understandably, businesses are struggling to adapt to having to close their doors (or severely restrict customer access) due to government-mandated social distancing and business closure rules.
🔎 Related: 3 ways SMBs are finding ways online to grow during coronavirus
On the other hand, Shopify reported that 26% of brick-and-mortar stores in English-speaking regions have implemented some form curbside pick-up or delivery service, facilitated by their platform.
So, while the surface-level story being told throughout the coronavirus pandemic of business survival may seem somewhat bleak, there are glimmers of hope (and growth) as local and national businesses have embraced attracting buyers via digital storefronts to make their sales.
Shopify's boom is part of a larger narrative of sales going virtual
It doesn't matter if we're talking about Shopify-facilitated curbside pickup from a brewery or restaurant, or a B2B sales team being forced to lean into virtual selling; businesses of all shapes and sizes (and industries) are all trying to solve the same problem:
"How do we continue to operate, serve our buyers (and our communities), and keep our doors open during this pandemic, when the face-to-face interactions we relied upon are severely restricted, if not outright prohibited?"
IMPACT success story Yale Appliance has really stepped up their game during COVID-19, as evidenced by their new options for buyers on their website.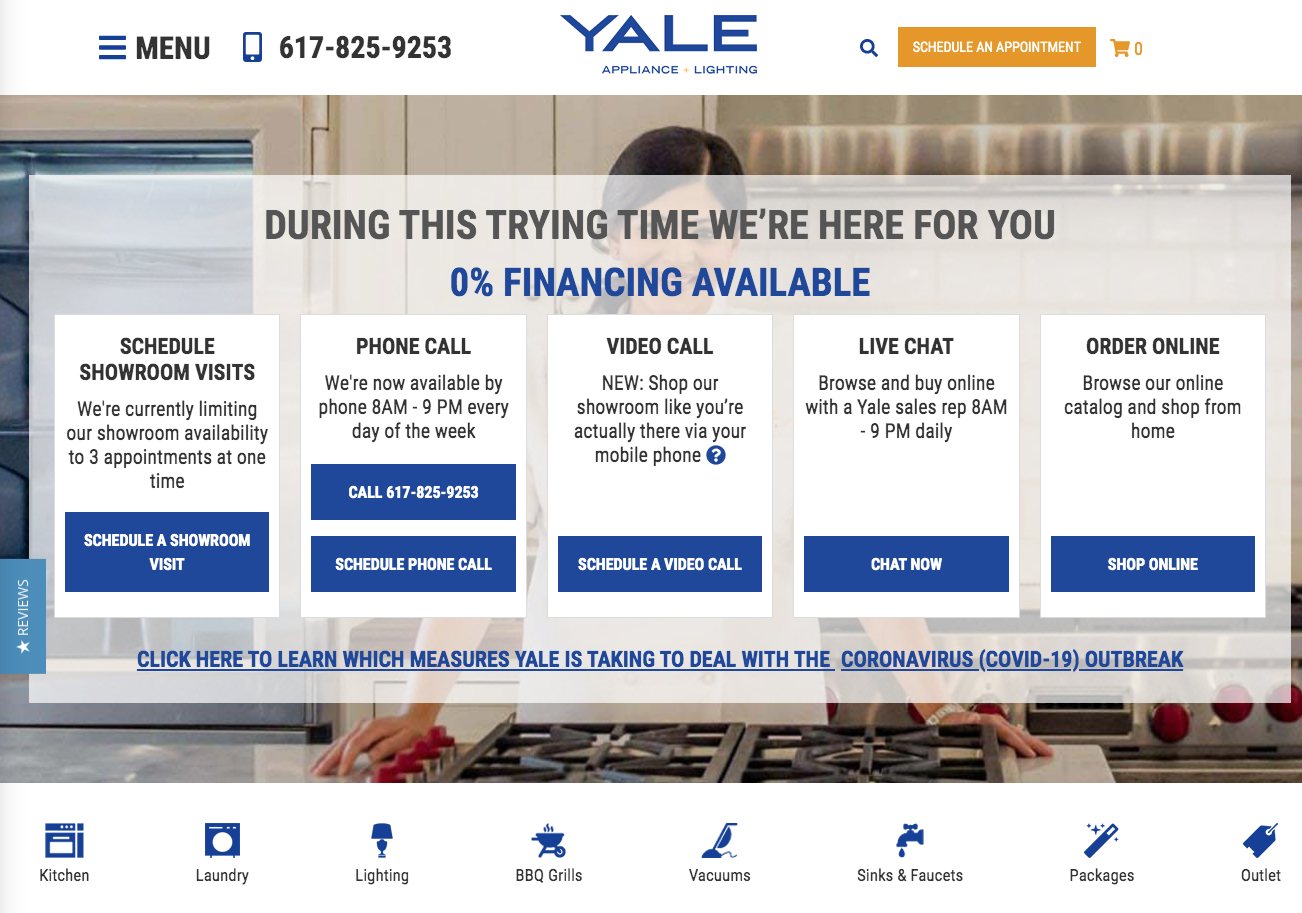 In addition to providing an e-commerce "order online" option for buyers, the Yale Appliance team also offers the ability to schedule limited showroom visits, an easy way to call their team, a new video call-and-tour option for their showroom, and an ol' reliable live chat feature.
Then there's Whimsicality, one of my favorite boutiques from back in my Annapolis, Maryland-dwelling days.
While they are known locally for their hand-curated, addictive in-store experience (I've lost literally hours wandering around their store), the incredible women who run the family-owned business are currently working overtime to keep up with the sometimes overwhelming demand of the online orders coming through their e-commerce platform.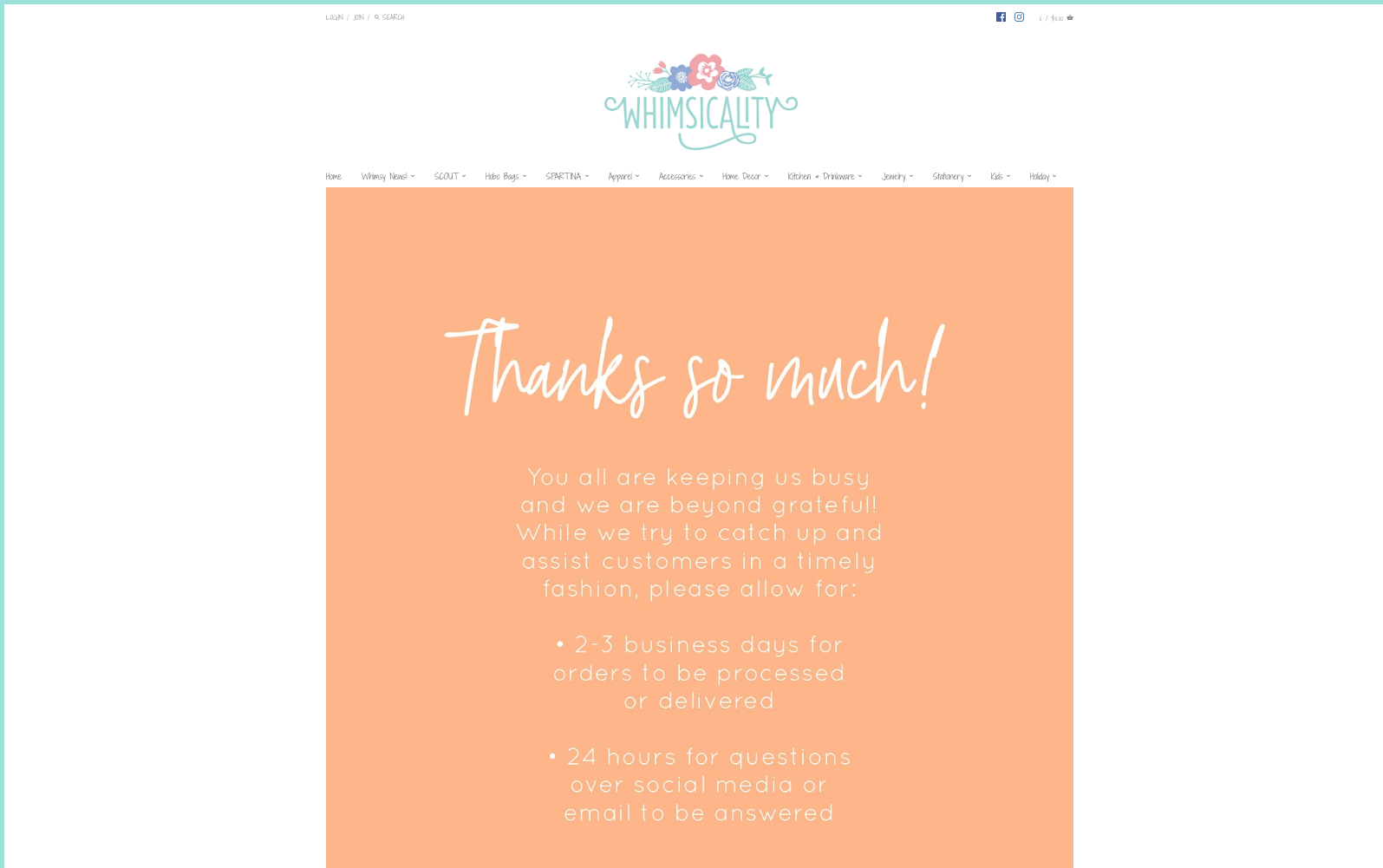 In comparison, they shared on Instagram only a month ago how they were struggling to make the right choices for safety and the security of their business.
Although I'm sure they would prefer to be open, their ability to operate as a digital storefront has clearly helped them navigate their way through this crisis as a business.
Bottom line, businesses must adapt and evolve
Like virtually all of you, I have vivid daydreams of being able to go outside, see (and hug) friends, eat at local restaurants, and do all of things that will hopefully be possible once we get through this.
But the road back for many businesses will not be an easy one. And, as business leaders and digital marketers, we must accept the fact that things will not go back to the way they were entirely before COVID-19. Particularly in how we attract new buyers for our products and services.
In fact, even as government-enforced restrictions are lifted, it may be a long time before our old in-person "business as usual" ways are allowed fully.
🔎 Related: 72 features every e-commerce website must have
That means the companies that not only survive but also thrive in this era will be those that are willing to adapt new ways of doing business.
Whether that's through e-commerce and digital storefront solutions like Shopify or pivoting to virtual selling as a part of their sales process, now is the time to find new ways of meeting your customers where they are.
Cuddled up on their couch. Likely watching 30 Rock reruns in brand new yoga pants. Smartphone clutched firmly in-hand.
Free Assessment:
How does your sales & marketing measure up?
Take this free, 5-minute assessment and learn what you can start doing today to boost traffic, leads, and sales.