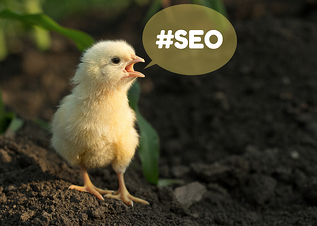 Rome wasn't built in a day.
The same thing is true when it comes to your company's SEO efforts.
In today's digital world, the SEO rules seem like they are getting more complicated by the day. Understanding how to do SEO effectively takes time, and frankly, who has the time to scan lengthy articles in attempt to understand the numerous SEO best practices.
So we decided to do the leg work for you. We've gathered SEO tips from some of the most trusted sources in the industry.
We've collected these 50 tips that will give you a better understanding of SEO, and made sure they are 140 characters or less so you can easily share the knowledge with your friends.
Free Guide: The Ultimate Inbound Marketing Strategy Playbook 2022
50 Tweetable SEO Tips
1. The fundamental aspect of SEO is keyword targeting and the distribution of keyword demand. (Rand Fishkin) Click to Tweet
2. If you have a small website with less content you should stick to a small group of focused terms. (Rand Fishkin) Click to Tweet
3. Don't produce pages for no reason, you should have a holistic content strategy. (Rand Fishkin) Click to Tweet
4. Bing powers Yahoo, so the your rank on each search engine will be equivalent to each other. (Rand Fishkin) Click to Tweet
5. The things that you do right for Google will propagate over to Bing and Yahoo. (Rand Fishkin) Click to Tweet
6. In the future, great content marketers will focus on quality over quantity. (Rand Fishkin) Click to Tweet
7. Google is looking for someone who posts truly, valuable content. (Rand Fishkin) Click to Tweet
8. Third party domains have a lot of authority and they require very few links to get to the top of search results. (Rand Fishkin) Click to Tweet
9. Half-a-dozen links from great sites will get your website to rank on page one. (Rand Fishkin) Click to Tweet
10. Don't post spam links on a high authority domains to increase your rankings. (Rand Fishkin) Click to Tweet
11. Be unique with your content presentation to stay relevant. (Rand Fishkin) Click to Tweet
12. The way Google targets your content is based on your contents' topics AND keywords. (Rand Fishkin) Click to Tweet
13. Sharing someone's content is only dangerous when you try to take credit for someone else's work. (Rand Fishkin) Click to Tweet
14. Don't always go after experienced link builders, a great partnership can be found inside your company (Rand Fishkin) Click to Tweet
15. Do things that will create value around your brand that also happen to carry a link. (Rand Fishkin) Click to Tweet
16. Marketers need to focus on link earning, instead of link building. (Rand Fishkin) Click to Tweet
17. Everything you do for SEO affects your inbound channels. (Rand Fishkin) Click to Tweet
18. Execute in multiple channels, not just one, and then find the channels that are creating consistent value for your company. (Rand Fishkin) Click to Tweet
19. A bad user experience can hurt your site's ranking on search results. (Google Webmasters) Click to Tweet
20. Add summaries or transcripts below videos for mobile devices for users who do not have time to watch the video. (Google Webmasters) Click to Tweet
21. Google must understand your mobile and desktop sites are the same, or the results will be skewed. (Google Webmasters) Click to Tweet
22. Treat Googlebot as a regular user (not as a specific user-agent). (Google Webmasters) Click to Tweet
23. Faulty redirects result in a negative user experience. (Google Webmasters) Click to Tweet
24. Make sure your site is keeping users on their preferred version of your website for their entire visit. (Google Webmasters) Click to Tweet
25. Spam on your site will hurt your site's search ranking. (Google Webmasters) Click to Tweet
26. To prevent spam: set up a Google Alert to tell you if commonly spammed terms are on your site. (Google Webmasters) Click to Tweet
27. The biggest SEO myth is that if you buy ads you'll rank higher on Google. (Google Webmasters) Click to Tweet
28. Google's model is set up to give users the best search results to keep them coming back. (Google Webmasters) Click to Tweet
29. Happy users are loyal users. (Google Webmasters) Click to Tweet
30. Google is not focused on money, they want to give users the best search results possible. (Google Webmasters) Click to Tweet
31. SEO myths: pagerank is a measure of the popularity of websites. (Google Webmasters) Click to Tweet
32. The popularity of a site depends on if people frequently visit it. (Google Webmasters) Click to Tweet
33. Page rank depends on how many people link to your page. (Google Webmasters) Click to Tweet
34. The clarity of what you write matters a lot. (Google Webmasters) Click to Tweet
35. If you can't explain your content well, you don't understand it. (Google Webmasters) Click to Tweet
36. The clarity of your content matters almost as much as what you're actually saying. (Google Webmasters) Click to Tweet
37. If you're saying something important but you can't get you message across, it will be ignored. (Google Webmasters) Click to Tweet
38. Make your content sound as natural as possible. (Google Webmasters) Click to Tweet
39. Read your blog posts out loud to make sure your writing is polished. (Google Webmasters) Click to Tweet
40. The faster your website loads, the better rank your site will have on Google and other major search engines. (HubSpot) Click to Tweet
41. Focus on "long-tail keywords" that are very specific to your business and the products/services you offer. (HubSpot) Click to Tweet
42. The page title is one of the most important things that Google evaluates to determine what is on a web page. (HubSpot) Click to Tweet
43. Google and the smaller search engines put extra importance on the words in your H1 text. (HubSpot) Click to Tweet
44. "Experts" advise you to use your keyword anywhere from 4-6 times to 10-12 times. (HubSpot) Click to Tweet
45. Any images used on the page should be optimized so that search engines can "read" the image. (HubSpot) Click to Tweet
46. Every website page, including your blog, should have at least one call-to-action above the page's fold. (HubSpot) Click to Tweet
47. Calls-to-action can help SEO by creating an internal link on your website to a specific landing page. (HubSpot) Click to Tweet
48. Creating remarkable and unique content should be your highest priority, above any other off-page SEO tips. (HubSpot) Click to Tweet
49. Local hosting typically helps reduce page load speeds. (HubSpot) Click to Tweet
50. Page titles should be under 70 characters with no more than two keywords per page title. (HubSpot) Click to Tweet