Big Changes Could Be Coming to How You Engage on Twitter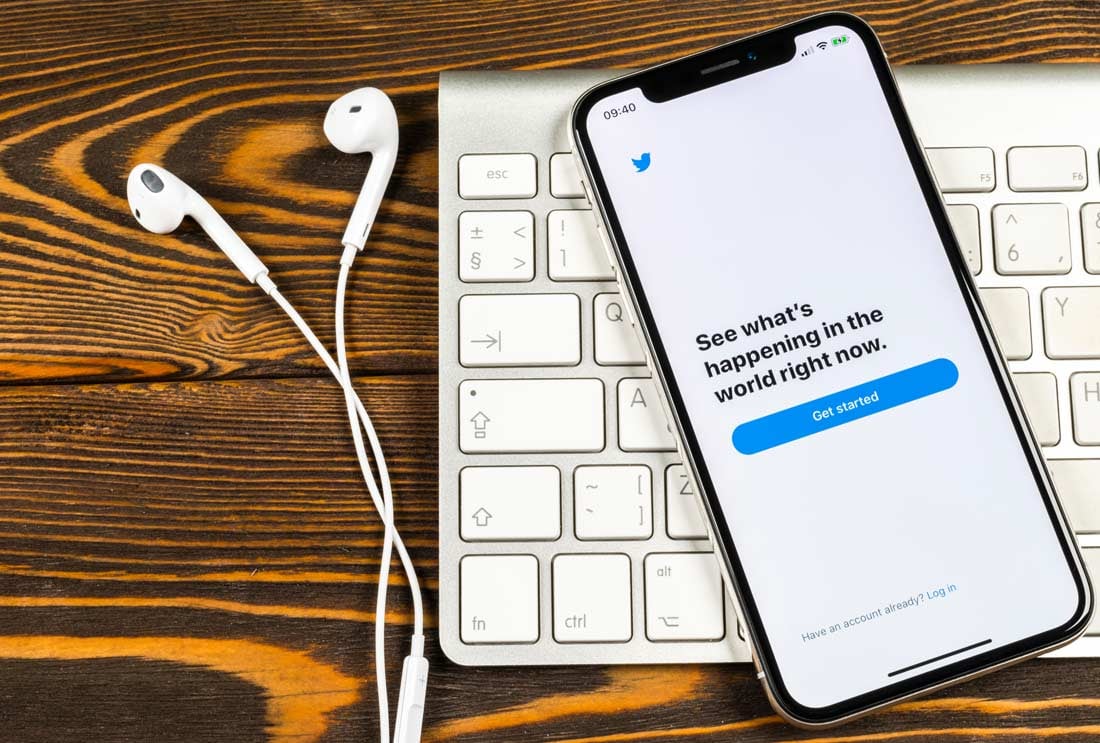 Twitter has never been a platform to shy away from making updates. The Evolution of Twitter Since the Dawn of the First Tweet lays this out and we can easily see that from 2006 to now, users have had to continually adapt.
Throughout the years, Twitter has launched verified accounts, introduced retweeting, added GIF functionality, increased character limits, among other things.
And it doesn't look like they're slowing down even as we're coming to the end of 2018.
(Side note: I don't think they should. A company that doesn't continually change and make updates for a better user experience tends to get left behind but, anyway, that's for another blog post.)
So, what's Twitter up to now?
Twitter's Latest Updates to Improve Engagement
Social Media Today reported that during the past month, Twitter has also been testing out a range of new options for tweet replies, including color-coded highlights for the original poster and threads based on each response, which we can see in the screenshot below: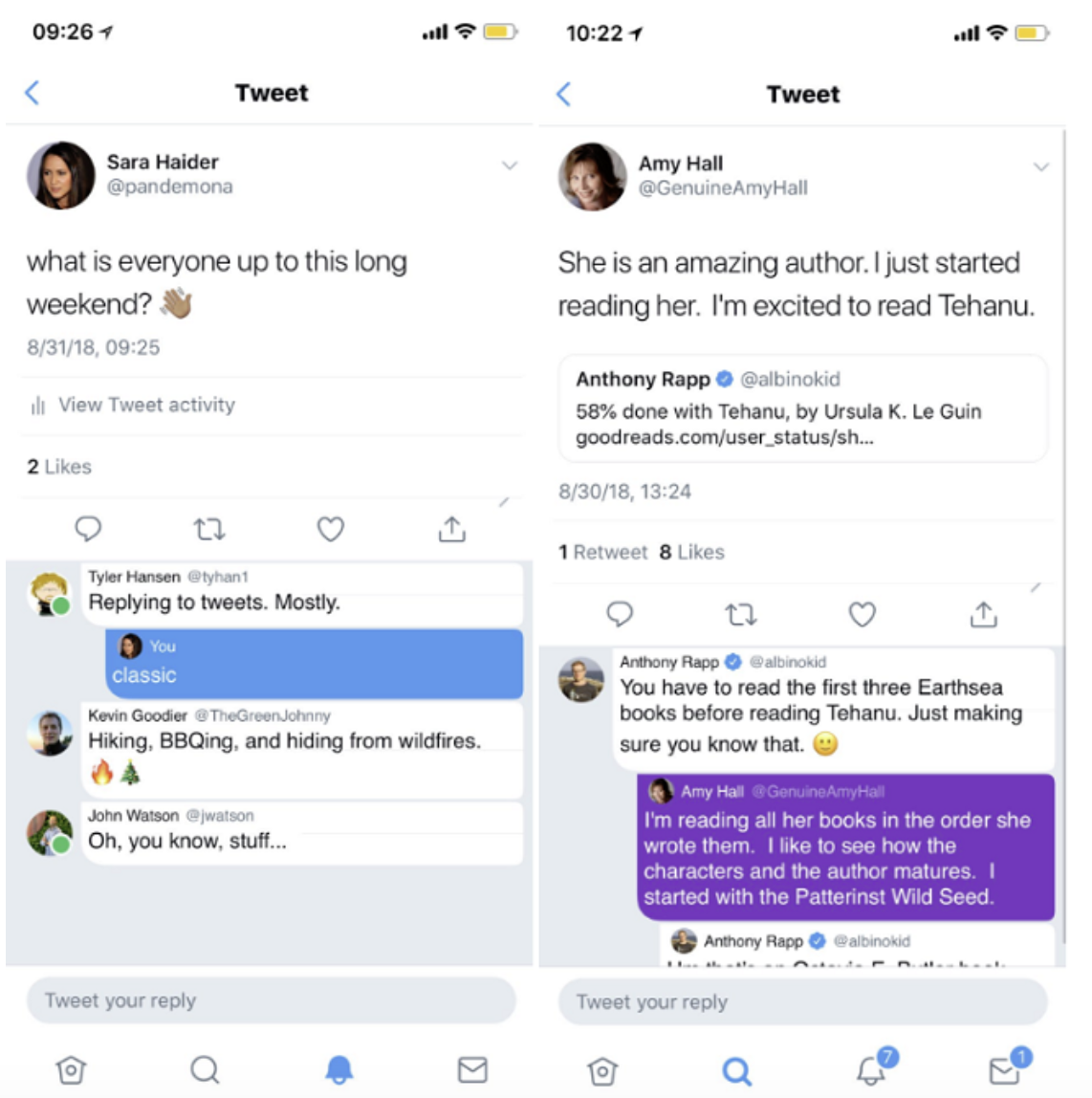 Based on these mock designs, Social Media Today also suggest that:
Threaded replies to individual responses, making it easier to see who's responding to what within tweet reply chains

Colour coding for responses from the original tweet poster and yourself, highlighting key replies (purple for responses from the original tweeter, blue for you)

Green dots on profile images within chains to indicate when a user is active and spark more real-time engagement (users would have the option to switch off)
To me, the cool part is that they aren't making these decisions on their own -- Sara Haider (@pandemona), who is part of the Twitter Product team, has taken to the platform to crowdsource info from users.
The focus of this seems to be on making Twitter feel more conversational: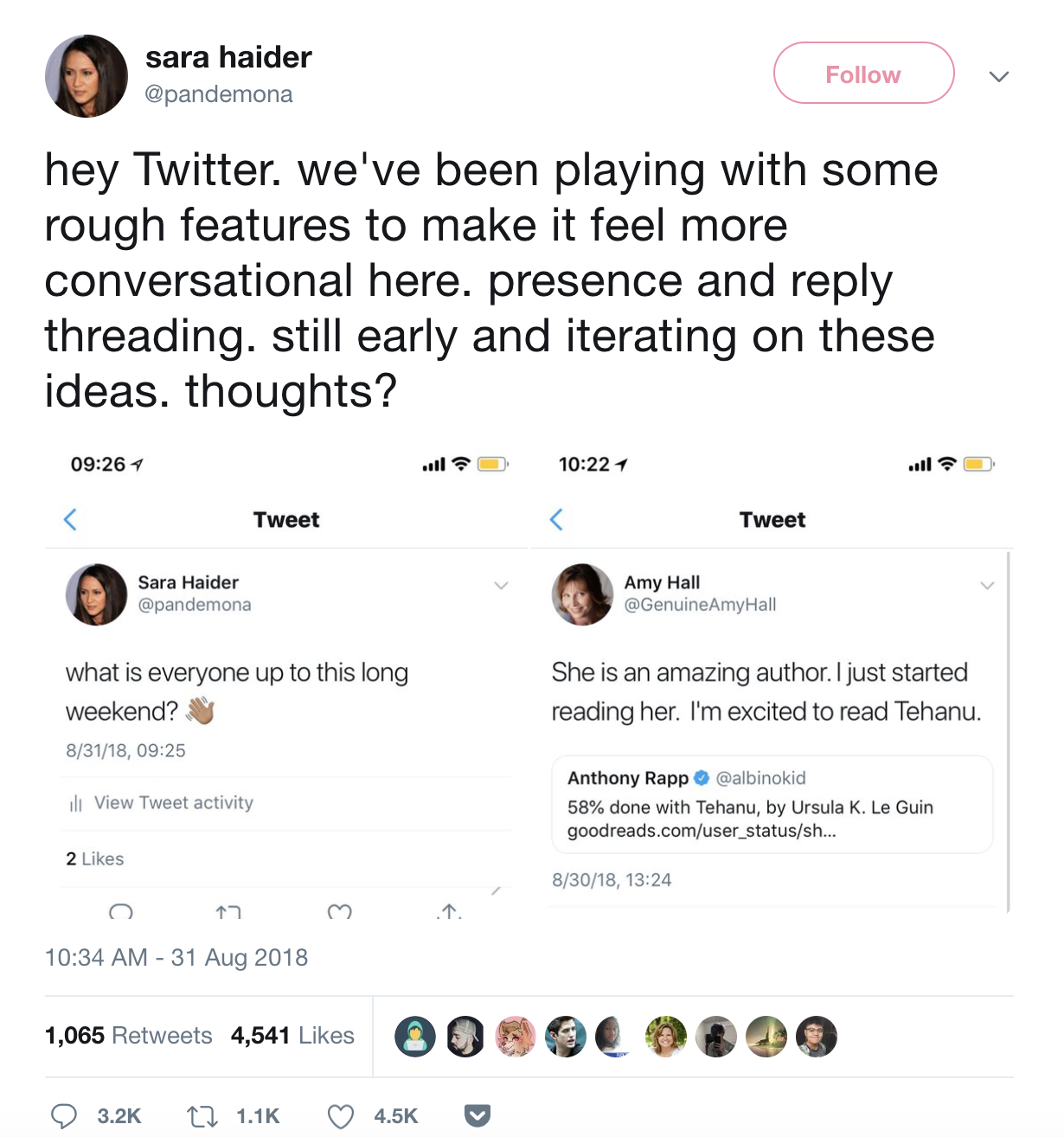 If you look at the tweet itself, you can see that users are commenting, providing insight, and asking questions including:

"Are the replies still tweets?"
(from @pandemona - yes)

"What are those green dots? Online status?"
(from @pandemona - yes)

"Where are the like, retweet, share buttons in the replies?"
(from @pandemona - They've been moved out to explore how it would look to focus more on the replies — to show more of them and make them easier to read)
(Though we did learn this week that they may be removing the "like" button altogether.)
Not only has she tweeted from her own user account but is also looping other active users, such as Casey Newton, into the conversation on more of a one-on-one basis: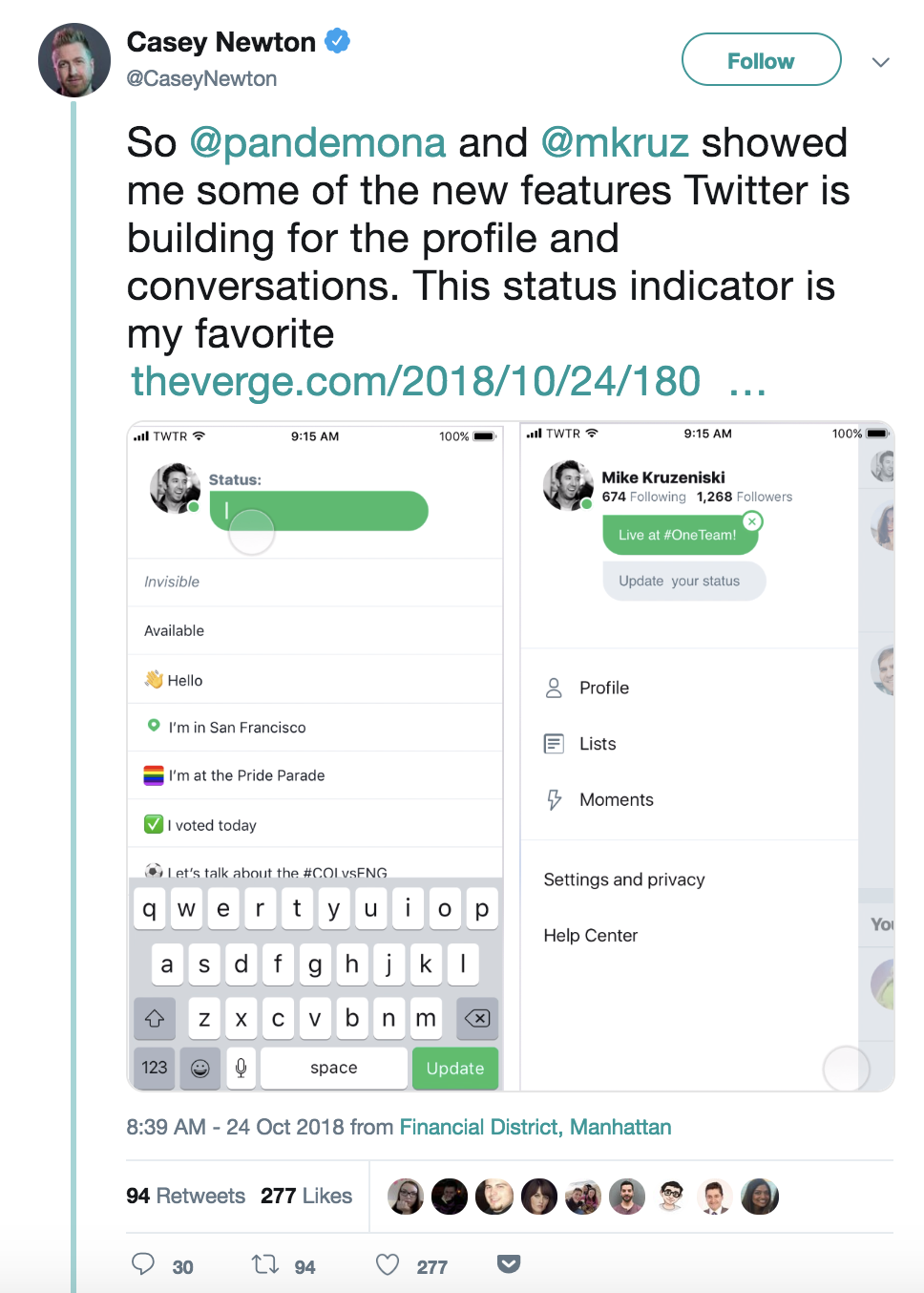 It's worth repeating here -- Twitter is just at the testing and crowdsourcing phase of these updates.
We haven't been told that any of this is final but, as you know, it's important for us as marketers to ahead of things If we don't think about the future of the platforms we use, we run the risk of being caught off-guard when updates are made.
What Do These Updates Mean to Marketers?
I think there is a lot to note when it comes to the updates that Twitter is experimenting with.
1. Focus on how we really communicate
As we look at how communication is changing and evolving with time, there's no denying that much of it is being done in the non-traditional sense.
We're trading in phone calls for text messages or apps. We're managing customer service through Facebook Messenger or specific customer service accounts for major brands. These possible updates to Twitter will allow us to more easily follow conversations with not only brands but also people we want to communicate with -- friends, industry professionals, brand influencers, and more.
Twitter's even getting even more real-time, as we can see when the user is available to chat. This gives users an opportunity to spark up live conversations like never before.
2. Easier to Skim Conversations
By threading conversations and color-coding them, it's just a simpler way to track who's saying what, when, and to whom (if multiple people have responded to the same tweet).
The way the platform is currently, you can click on 'See Thread' if a conversation is happening about the tweet but it's fairly difficult to understand what's coming from the original tweeter and what tweets are coming in from other users.
See this example below: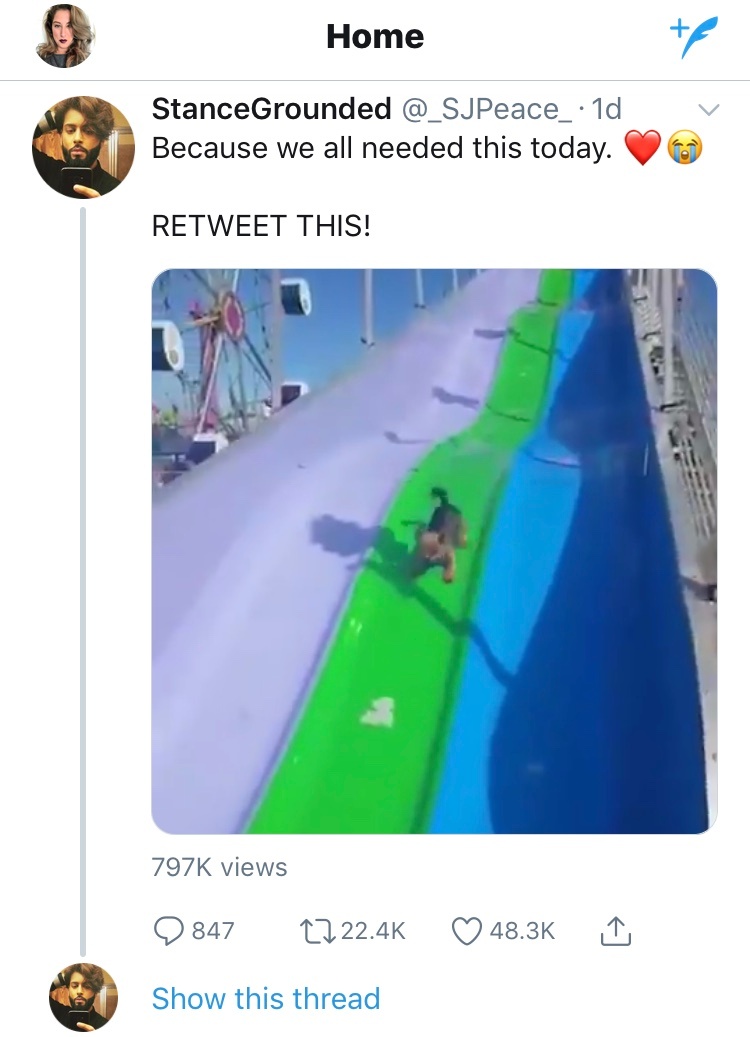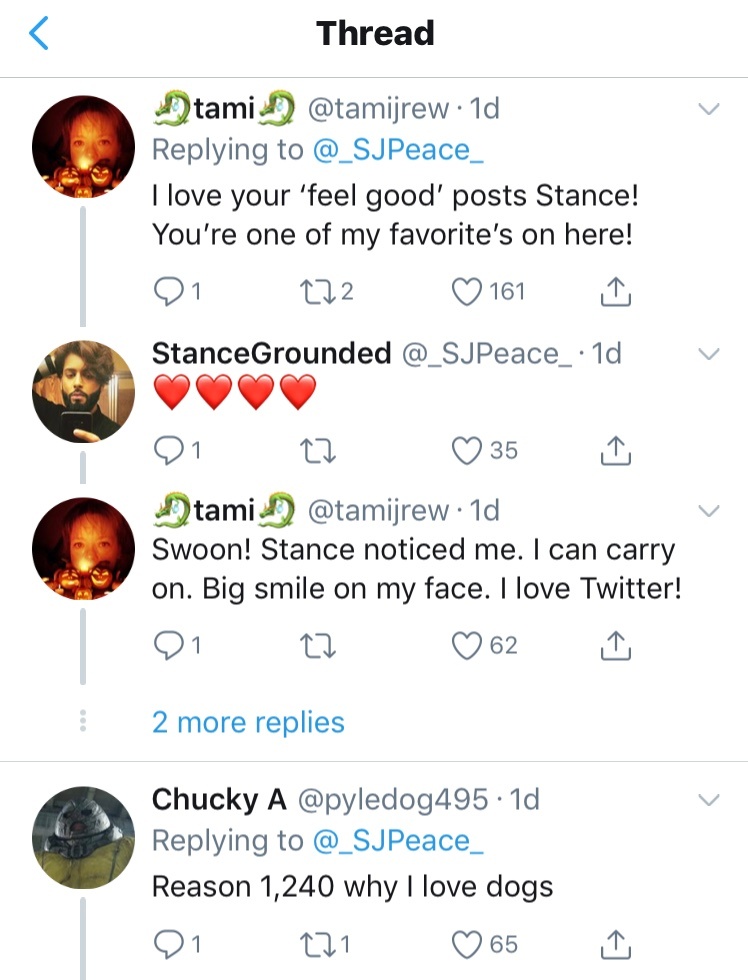 Right now, you have to pay attention to the username as the tweets all look the same.
The update being tested would make this conversation easier and quicker to follow, especially if you're focused on what insights the tweeter is sharing.
3. Twitter's Listening to Its Users
This is less of an update but more of a shoutout to Twitter. I personally love that they're using the platform to talk to the people who are actually active.

Often times, tech companies (or any company really) make changes based on their data rather than the people actually using the products and platforms (a.k.a. Their buyer persona).
By asking questions to the people who actually use the platform and keep it alive, Twitter is gaining extremely valuable, authentic user insight.
I think this kind of crowdsourcing and user testing is essential for companies when looking to make updates to their products.
This communication allows businesses to be sure that the changes are actually needed and that they're not going to cause more frustration for people who are actually supporting them most.
The Bottomline
The updates Twitter is in the process of testing are exciting for users of the platform and for marketers.
Because they're focused on increasing engagement and making conversations easier to be had, it would be difficult to see how these updates could frustrate users.
Plus, from a marketing perspective, it will be much easier to spark up conversations with the right people, to understand the line of communication through threads, and just make the platform easier to use.
I'm looking forward to seeing what comes from this. Are you?
Free Assessment:
How does your sales & marketing measure up?
Take this free, 5-minute assessment and learn what you can start doing today to boost traffic, leads, and sales.