2 Ways to Get Your Sales & Customer Success Team Working Together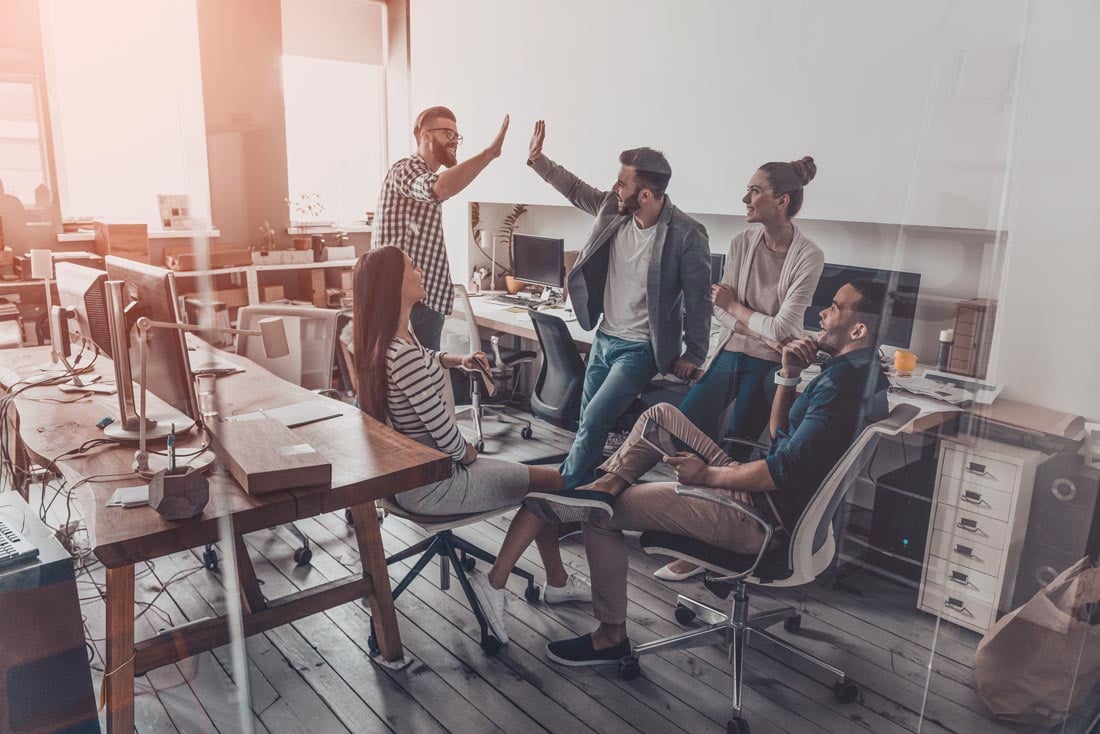 The struggle is real.
Organizations everywhere are challenged with the growing issue of alignment across departments.
They know their strategies, organizational capabilities, resources, and management systems should all be arranged to support a shared company mission and purpose, but the challenge is when leaders pay too much attention to one area of the business and not enough to others.
This is inevitable. Marketing is going to care about marketing, sales about sales, and so on.
The key to success, however, is getting these disparate departments to work together and create a seamless experience for both the internal organization as well as the customers.
Sales Vs. Customer Success
Let's look at a few statistics to put this in perspective:
73% of sales teams say collaborating across departments is absolutely critical or very important to their overall sales process. Sales teams of all performance levels realize the importance of cross-collaboration in order to have complete visibility into the customer journey. Sales organizations can no longer exist in silos — they must now connect across different departments, channels, and partners.

(Source: Salesforce)
60% of sales professionals say that collaborative selling has increased productivity by more than 25%, and more than half (52%) say it has done the same for increasing pipeline. Organizations are able to sell quicker and more efficiently by integrating other departments (like marketing or customer success) into the process.

(Source: Salesforce)
68% of sales professionals say it is absolutely critical or very important to have a single view of the customer across departments/roles. Yet, only 17% of sales teams rate their single view of the customer capabilities as outstanding. While the majority of sales reps acknowledge the importance of an aggregated view of customer data, they're having a hard time delivering with their current technology stack.

(Source: Salesforce)
As you can see, the idea of alignment and collaboration is a growing strategic mission for many organizations, but as we look at the overall challenges, there's one key conflict we want to hone in on: sales and customer success.
We all know what sales is, but for those not familiar with the term, customer success (CS) bridges the gap between sales, marketing, and support.
It ensures that your customers understand, internalize, and experience the value of your product or service throughout their entire journey with your organization (from lead to customer). Not to mention making sure the customer is satisfied and happy, too.
A strong relationship between sales and customer success is the foundation for a successful customer experience.
When these two teams are aligned, it accomplishes the often-burdensome task of optimizing knowledge transfer and success story sharing. The better the relationship between these two teams, the greater your chances of retention, expansion, and loyalty will be.
That being said, let's look at two things the CS and sales team can do to engage in more effective communication, collaboration, and coordination.
1. Create a Shared Process
Ultimately, both sales and customer success are working towards a common mission but may have different ways of getting there.
Sales wants support for deals and information about what expectations they should be setting and the CS team wants an organized handoff and the opportunity to make the customer successful.
With a streamlined process and transition from sales to customer success, you create a positive experience for the customer and are well on your way to developing a lasting relationship with them.
Are the customer service managers (CSMs) and sales reps on the same page about onboarding? Are they following the same process? Or are they pointing fingers at each other?
Creating a shared process provides a clear framework for what each team should be doing or sharing before, during, and after a renewal is made.
For instance:
Before: You need to understand your customers. While sales is likely doing the heavy lifting before the sale, the CS team can help by sharing what they know about customer segments and profiles. Maintaining and sharing this information across teams adds value to decision making, and provides a better snapshot of what to expect from certain customer segments.
During: Again, it's sales who leads the conversation and steers new customers.
However, sales reps should consider bringing CSMs into sales meetings because it provides a great opportunity to talk about what it's like to be a customer and how the process works.
Selling the benefits of a CSM sets the stage for a positive experience.
After: This is typically when onboarding begins and the transfer from sales to customer success takes effect. If you've included your CSM during the process, then you're already a step ahead.
This shared process will help make the handoff more smooth and ensure this information is passed along from sales to CS:
What was the customer's motivation for buying our product?

Will our product be replacing an existing solution?

How will they be evaluating the success of our product?

Have any usage goals or expectations been shared?

Has the customer expressed expectations around a formal review schedule (quarterly, yearly)?

Who is the decision maker? Did you work with anyone else to get this deal signed?

Do you know who my point of contact will be and what their role is?

Were there tense or negative moments during the buying process? If so, who was involved and what were the circumstances?
2. Establish a Shared Definition of Customer Health/Success
Assessing a customer's health (or the success of their service in) can be challenging because of the volume of data that needs to be collected, aggregated, and then analyzed.
Both sales and customer success need to know what data is important and how it directly relates to customer health and the possibility for churn or growth. While a good health score may be an indication of customer satisfaction; a poor health score could be an early warning signal for churn.
However, this correlation doesn't always add up. For example, even if your product or service is being well utilized and it's one of your top customers, there's still a chance it may churn.
This could be for a number of reasons, but perhaps your main contact left the organization or a new direction is being implemented.
This is crucial information for sales and CSMs to share. Not knowing about a key contact leaving the company could mean the difference between expanding or losing your biggest account.
Working together through this shared language will help you keep your eyes open for changes and opportunities to share with one another.
The true measure of customer health and success is having a comprehensive understanding of how your product or service is being used, who are the biggest users, and why they find it valuable.
Customer Success outlines a six-point satisfaction scale (shown below) ranging from "Extremely Satisfied" to "Severe Risk."
Use this as a starting point to tailor your own customer health scale.
With this shared definition in hand, you'll then want to work hand-in-hand to analyze and troubleshoot your execution of deals.
Analyzing Deals Together
A common point of contention between sales and customer success is unqualified customers.
The CS team often believes that sales is acquiring "wrong fit" customers who contribute to churn and create problems for the CS Team, just to meet their sales quotas.
On the other side of the house, sales often thinks that CS is slowing down the sales process and delaying deals by demanding customer readiness, or sometimes, even that they're not delivering on what was promised.
Clearly this is a breakdown in communication that needs to be addressed. This is why these two teams must schedule a joint meeting where they focus on two key things:
Analyzing clients you've won
In other words, conduct a sales post-mortem. The purpose of which is to figure out what you did well and what you could do differently.
It gives you the chance to think through what made you successful or unsuccessful so you have a better chance of replicating that success or avoiding any missteps in the future.
Doing a joint post-mortem welcomes both perspectives, which helps create a more comprehensive picture of the customer scenario.
Here's a simple three-step process you can follow: Identify. Discuss. Solve.
Identify the reason for the win or loss.
Why did this customer buy or not buy?

Do you know why they were originally interested in exploring your solution? Did something change at their organization? What are their short-term and long-term goals?

Were any stages of the sales process skipped? Were qualifications misunderstood or misinterpreted?
Discuss what worked and what didn't work.
There are multiple sides to every story, this step gives everyone the chance to say what they want to say about the account. Put it all on the table in an open environment where the purpose of the meeting is to encourage open discussion and collaboration in order to improve.
A few talking points you could focus on are:
Characteristics of good fit vs. bad fit customers

What's the increased likelihood of churn based on specific patterns, behaviors, or situations?

Were the CSM and marketing teams leveraged to the fullest? Should they have been brought in earlier or later in the process?
Solve for what didn't work and build upon what worked.
Once you've identified the issue or reason for the win/loss, it's time to put your heads together to find a solution.
If the discussion centered around a bad fit customer, then determine how to avoid this in the future by revisiting your ideal buyer persona(s). Then, adjust accordingly to avoid including any characteristics or behaviors associated with this type of customer profile.
On the flip side, let's say you've identified a customer who continues to be an ideal example of your "sweet spot" then you'll want to outline why and how this customer is so successful.
Close the Loop
The basis for a good working relationship is mutual respect, understanding, and compromise.
When it comes to your sales and customer success teams, focus on finding common ground through a shared process and shared definition of customer success/health.
It won't happen overnight, but taking small steps toward alignment will help the teams transition towards working together as one unified force.
Alignment across departments is difficult to achieve but it's one of the most effective ways to improve business results.
Want more ideas about collaboration and communication? Learn more with our eBook on How to Take Your Client Relationship to the Next Level!
Free Assessment:
How does your inbound marketing measure up?
Take this free, 5-minute assessment and learn what you can start doing today to boost traffic, leads, and sales.
Get Started
Free Assessment:
How does your inbound marketing measure up?
Take this free, 5-minute assessment and learn what you can start doing today to boost traffic, leads, and sales.
Published on June 20, 2018