How to Practice Mindfulness in Those Anxious Professional Moments [Infographic]
IMPACT just wrapped up an amazing two-day event here in Hartford, Connecticut, you may have heard of: IMPACT Live 2018.
It was a pretty big deal.
Like my teammates, this was my second IMPACT Live, but my first as a team member and what an amazing event and grand production it was.
On the surface, it looked like a seamless effort, however, leading up to this awesome event, I know we were all feeling a bit anxious, frazzled, as well as overwhelmed.
Personally, this was my first event at the organization so I especially felt the weight of anxiety trying to bog me down.
I was worried about letting my team down, not being available at the right moments, or not knowing the right answer if a guest asked me a question.
To help me stay present and eliminate much of my anxiety, I turned to a state of mindfulness.
This was even something we discussed at IMPACT Live itself with a great session from Rob Dube!
Mindfulness is helpful because it helps you stay aware in the moment and not drift away into things that don't matter then and there.
It has allowed me to focus on the tasks at hand and not worry about other things going on or what could happen if something went wrong. The benefits of practicing mindfulness have allowed me to reduce stress and alleviate my anxiety.
In the infographic below, Shamash Alidina, one of the UK's most sought-after mindfulness teachers, breaks down how to live mindfully by using the acronym MINDFUL.
Here are the top three mindfulness practices (he mentions) that really got me through this pre-event stress: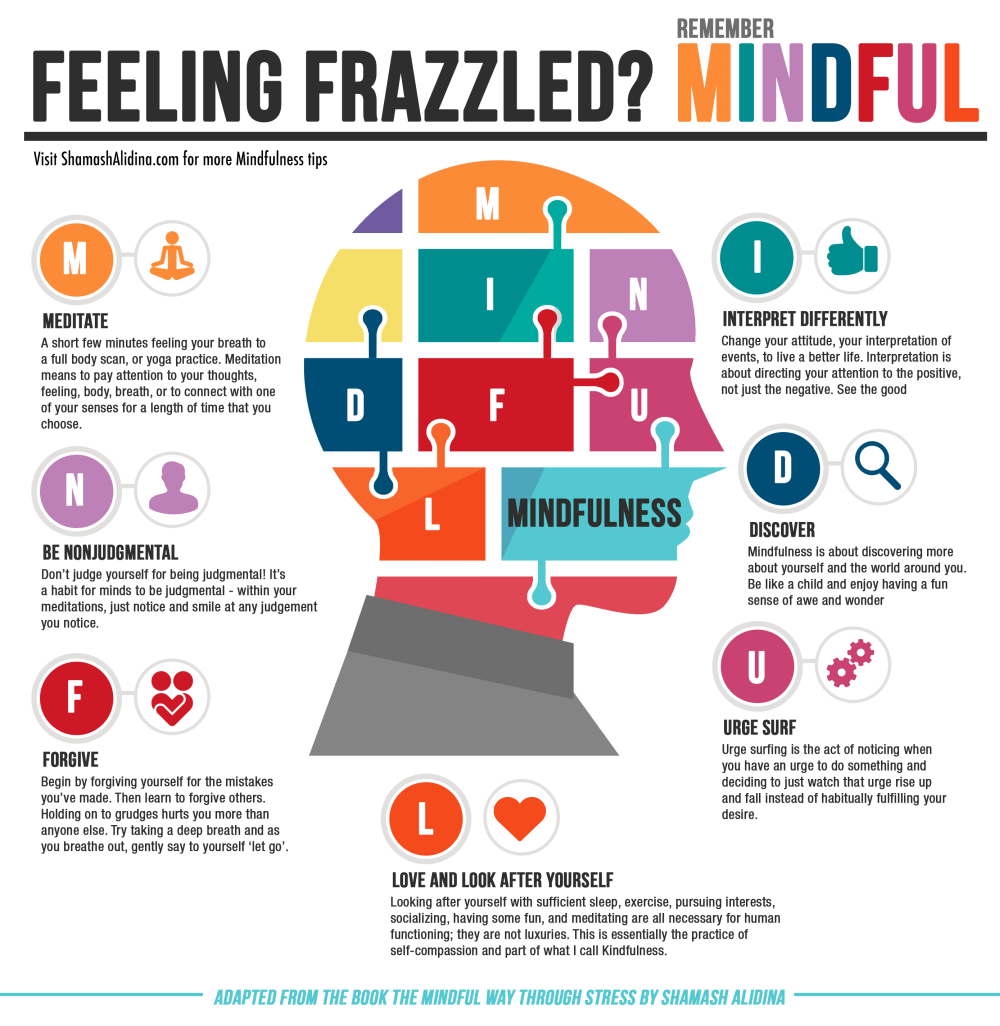 Meditation
Some call it meditation, but I really think of it as getting centered and getting in tune with my inner-self.
I personally love to center myself by breathing deeply and listening to my body just be.
I love to hear my heartbeat and feel my blood flowing. It's a way to turn off the outside noise and get in touch with the one thing in that moment that really matters -- none of the noise or stress that usually gets blown out of proportion.
Discover
Sometimes when faced with difficult problems, I tend to panic (a lot). I find, when I take a step back and "discover" the "issue" from a different angle, I am able to almost always come up with a solution.
This has helped me learn more about how I tend to deal with different levels of stress and has helped me to be more proactive to eliminate similar issues in the future.
Forgiveness
Forgiveness is key! Like many of you, I'm sure, mistakes are not my happy place at all. I hate to make them. However, I have to realize that I am human and more times than not, I learn amazing lessons from making mistakes.
Even as a professional, it can be easy to beat yourself up for a typo, a poorly-timed email, or a conversation that could have gone better, but these moments are all full of lessons.
I have learned over time to forgive myself for what I think may be my shortcomings.
In turn, mindfulness has allowed me to be more intentional in everything I do versus being reactive and has helped me find more success both personally and professionally.
My big takeaway from facing all the anxiety that I felt leading up to this event, was to first and foremost love and take care of myself.
I can be no good to my team or my company unless I am good to myself first.
Mindfulness helped me get prepared as well be apart of one of THE best event this year for IMPACT.
IMPACT LIVE 2019, bring it on!
Free Assessment:
How does your inbound marketing measure up?
Take this free, 5-minute assessment and learn what you can start doing today to boost traffic, leads, and sales.
Get Started
Free Assessment:
How does your inbound marketing measure up?
Take this free, 5-minute assessment and learn what you can start doing today to boost traffic, leads, and sales.
Published on August 11, 2018