13 Tips for Surviving a Professional Networking Event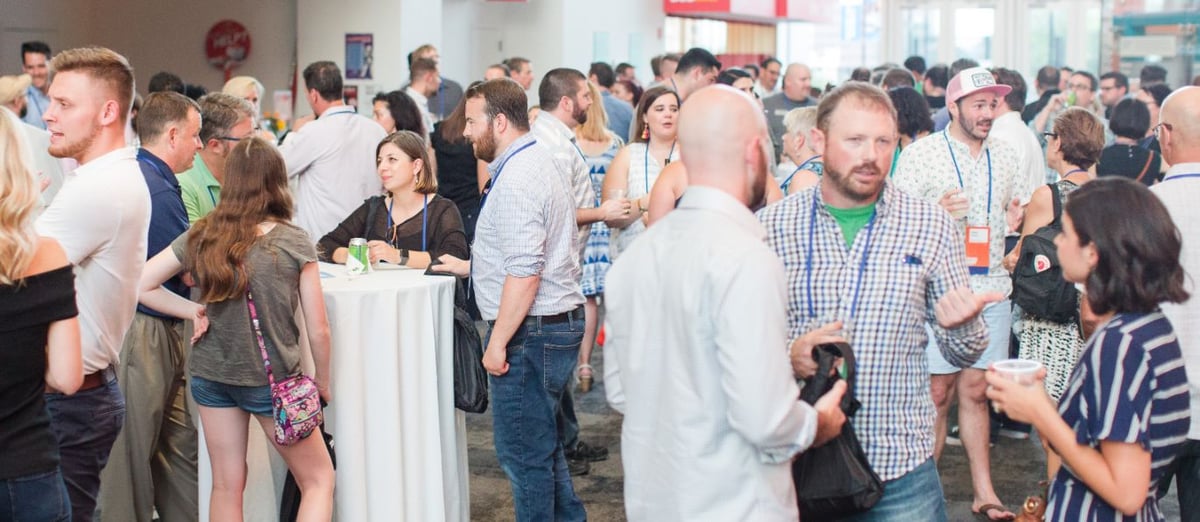 Conference season is just around the corner.
Here at IMPACT, we are getting ready to light up Hartford with IMPACT Live. Just a few weeks later, our team will head up to Boston for INBOUND. And, as we head into the fall, major industry events will take place all across the country.
As marketing professionals plan to pack their bags and set their out of office auto-responses, it's important to take a step back and remember why we attend professional conferences in the first place.
Sure, you want to continue your professional education. And of course, you want to experience amazing keynote speakers. But some of the best takeaways from a marketing conference actually happen during our one-on-one interactions with other conference attendees.
Those interactions can happen when you least expect them ⁠— while waiting at the baggage claim at the airport, say, or standing in line to attend the most sought-after training session. But one way to be sure to connect on a one-to-one level with your fellow conference attendees is to attend happy hours or networking events.
These events often get a bad rap. Some people love them, many people dread them, but every marketing professional should at the very least be able to survive them.
So if you've RSVP'd to an upcoming networking event, here are 13 tips to make the most of the experience:
1. Set an intention
Whether it's a morning meditation or an afternoon conference call, you should approach each activity of your day with an intention. Attending a networking event is no different.
Start by asking yourself: Why am I here? And what do I want to accomplish at this event? Do I want to meet like-minded professionals? Find potential business leads? Or just simply connect with a fellow company colleague who is also attending the event?
By answering the question "why am I here," you'll be able to take action with intention and define the success of the event on your own terms.
2. Understand the strengths and weaknesses of your personality type
Knowing how to approach networking events starts with knowing yourself ⁠— and more specifically, knowing your personality type.
If you're an extrovert, resist the urge to get super excited and dominate the conversation. If you're an introvert, be mindful of your energy level. Don't overexert your energy all in one night and get burnt out for the rest of the conference.
With so many first impressions to make in such a short amount of time, it's important to play to your strengths, while also being mindful of your own limitations.
3. Preview the guest list
Sure, you know the names of the spotlight speakers, but those big names are unlikely to attend the same networking events as the regular conference attendees.
So how do you figure out who will be at your networking event? If the conference doesn't have a digital attendee list, try some "light" social media stalking. See if anyone has been using the conference hashtag or has mentioned the event on Facebook or LinkedIn.
A little bit of prep work can go a long way to ensure a few friendly faces throughout the evening.
4. Use the buddy system
Speaking of friendly faces, why not try the buddy system? Networking events can be much less overwhelming if you have a friend to help you through the social lulls of the night.
If you strike up a friendly conversation with a fellow attendee while in line for your morning Starbucks, make plans to meet up later that night at the Happy Hour.
Sometimes having at least one person to seek out ensures that you avoid becoming the awkward wallflower.
5. Practice your elevator pitch
If your intention is to "work the room" to generate new business leads, it's essential to have a solid elevator pitch. Attention spans are short (especially in a distracting environment), so you need to know exactly how you want to introduce yourself and what key points to hit.
Rehearse your pitch prior to the event, and nail your essential talking points. Aim for a 20-30 second introduction that gives the listener a reason to stay engaged in the conversation.
6. Practice your handshake
Practice makes perfect. And much like your elevator pitch, it's important that you practice a proper handshake.
No "queen mums" or "death grips" ⁠— you need a nice firm handshake that establishes your presence in the room, without overly asserting dominance or aggressiveness.
7. Know how to eat (or not to eat)
Unfortunately, if you're here to "work" the room, there may not be a lot of time for snacks. Consider eating dinner ahead of time, or limiting your snack time to the first 20-30 minutes of the event.
If this is less of a work event and more of social occasion, anything bite-sized on a toothpick is your friend. They're easy to eat on the go and limit the potential for a disastrous splatter on your shirt.
8. Know how to drink (or not to drink)
Having a drink in hand can be a good way to assimilate into the crowd, but that doesn't mean it has to be an alcoholic beverage. Remember: If you're working the event you need to stay sharp.
Limit your alcohol intake, or go completely dry for the evening. A nice seltzer with a squirt of lime is a perfectly acceptable alternative to a gin and tonic.
9. Master your handshake logistics
We've all been there ⁠— the awkward dash to set down your drink on the nearest table when someone is coming in to shake your hand.
But there's a simple solution to this common logistical challenge! Hold your drink in your left hand so that your right hand is always free for handshake introductions.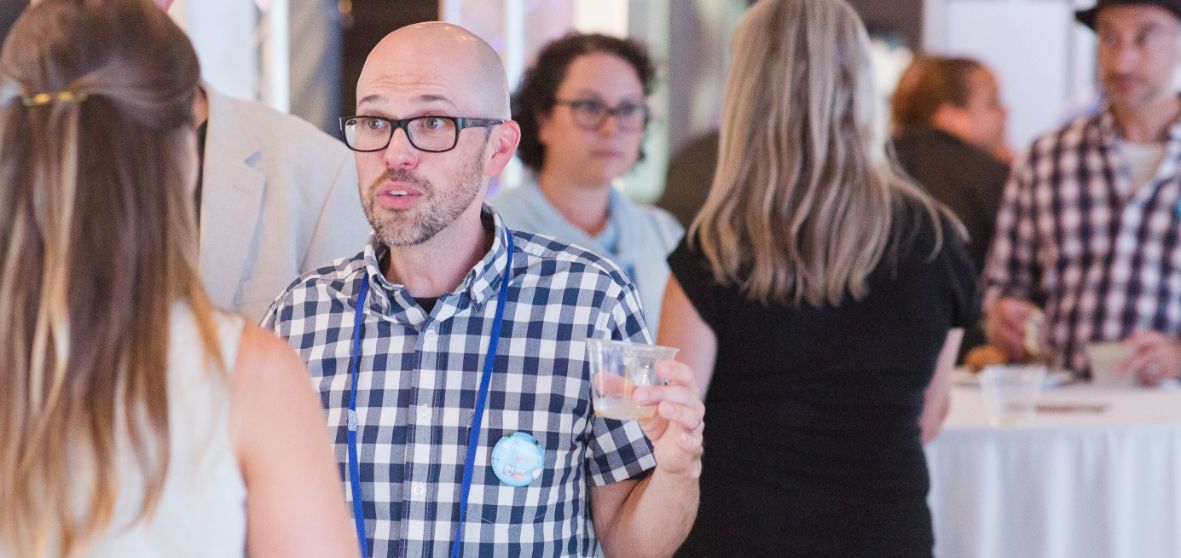 10. Have business cards
Don't forget them. It's still one of the easiest ways to follow up with potential contacts after the event. If you want to streamline the process, use HubSpot's business cards scanner app to instantly create contacts in your HubSpot portal.
11. Follow up
Always, always, always follow up. Even if the connection doesn't seem like a natural business contact or potential lead ⁠— they may know people who would be a great fit for your organization.
12. Establish your follow-up timeline
When it comes to follow-up, timing is everything. If you're too quick, the email gets lost in the shuffle. If you wait too long, you lose the positive momentum of your initial conversation.
A good rule of thumb is to aim to reach out by the end of the following week. Make sure to mention your follow-up timeline while in conversation with your prospect so that they know when they should expect to hear from you.
13. Create buy-in and ask permission
When it comes to follow-up, it's important to state the obvious. You know you're going to follow up, they know you're going to follow up, so why not say it out loud? Create buy-in by stating the obvious and telling your business prospect that you intend to reach out by the end of next week.
End the conversation with something like: "It seems like your company might need help with XX. Would you mind if I reach out to you next week so that we can discuss that struggle a little more?"


So stop dreading that upcoming happy hour! Make the most of every moment at your next marketing conference, and remember that with these 13 tips, you'll be able to survive and thrive at any networking event.
Free Assessment:
How does your sales & marketing measure up?
Take this free, 5-minute assessment and learn what you can start doing today to boost traffic, leads, and sales.