Hubcast 177: Lifecycle Stages, Reporting on Blog Topics & Shareable Forms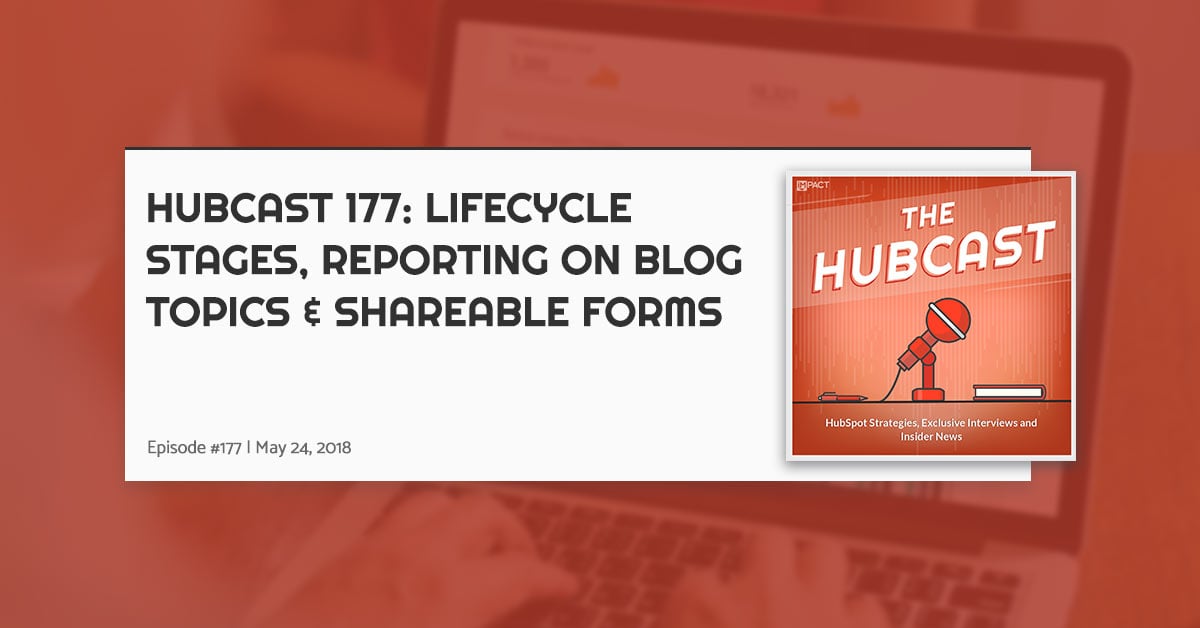 This episode of the Hubcast is brought to you by our friends at DigitalMarketer.
#INBOUND18 Speakers are out!
This week, they announced a new Keynote and two new Spotlight Speakers:
Deepak Chopra: Best-Selling Author & Founder, Chopra Foundation
Why Deepak is INBOUND: "An internationally acclaimed author and innovator, Deepak is perhaps best known for his advocacy of integrative medicine and personal transformation. His work and studies have also led him to work closely with entrepreneurs, businesses, and marketers on how they can best interact with their customers and communities. Deepak has a unique perspective for how businesses can incorporate creativity, innovation and social well being into the DNA of their organizations that he will bring to the INBOUND stage."
Julie Rice: Co-Founder, Soulcycle & Chief Brand Officer, WeWork
Why Julie is INBOUND: "As co-founder of SoulCycle, Julie helped invent the lifestyle fitness movement that has taken the world by storm. In her new role as Chief Brand Officer at WeWork, Julie's experience building thriving communities will undoubtedly strengthen the company's commitment to connecting its members to each other and the WeWork brand."
Cleo Wade: Artist, Poet & Author
Why Cleo is INBOUND: "Touted as the "Oprah for millennials," Cleo has become an inspirational voice of her generation through messages of positivity, honesty, and accountability. She has a unique ability to connect people and her perspective and reach has been tapped by brands like Gucci, Armani, and Emily's List. Cleo embodies INBOUND via her symbiotic artistry and activism and her commitment to creating and fostering tribe building and human connection is necessary now more than ever."
Tweet of the Week
Christine Gritmon was accepted to speak at #INBOUND18 on creating videos for social media! Congrats, Christine!
#INBOUND18 Sept 4-7 in Boston - my first MAJOR speaking gig!

— ✨Christine Gritmon✨ (@cgritmon) May 21, 2018
Property of the Week: Sales Enablement Series
In our sales enablement series, we'll be focusing on properties that will help your sales team sell better!
Lifecycle Stage
If you don't generally know about Lifecycle Stages, you may be living under an orange-colored rock.
"A property used to indicate at what point the contact is within the marketing/sales process. It can be set through imports, forms, workflows, or manually on a per contact basis. For more information, check out this article."
The property itself is not difficult to understand. What's difficult is figuring out how to actually use it effectively!
The first step to using Lifecycle Stages is aligning with your team on what kinds of leads count at each stage.
If you define a Sales Qualified Lead differently than your sales team does - we've got a problem!
HubSpot has some great resources on how to create workflows and forms to set Lifecycle Stages, but you can't change the default stages HubSpot has set up for you, and this is where it gets tricky.
Learn about creating custom lifecycle stages here.
Once you've agreed on the criteria for each lifecycle stage, you'll be able to start incorporating it into things like lead scoring (Episode 176) and will be able to report more effectively on the state of your marketing funnel.
HubSpot Wish List
Allow reporting on individual Blog Topics!
"It would be nice to have the ability to analyze blog performance by topic tags. So include topics in the blog data export from the Analyze dashboard, and/or be able to click on that topic category within HubSpot and instead of it taking you to that topic feed on the client's website, show you a dashboard with analytics for blogs in that topic. I'd like to be able to see what topics we haven't written much about, and what posts within a given topic category were top performers. Thanks!" - kwilhelme
I (Carina) experienced this first-hand this week when I tried to create a custom report showing Hubcast blog performance.
Please, for the love of reporting, vote this up!
This Episode's Sponsor: DigitalMarketer
This week's Hubcast is brought to you by DigitalMarketer.
One of the reasons we like DigitalMarketer so much is because the goal of their agency partner program is to do exactly what we at IMPACT are doing: Not just doing the marketing work for our clients, but teaching them how to do it themselves, and giving our teams and our clients the best digital marketing education possible.
HubSpot Updates
[In Beta] Site Search
"Site search is the find-anything solution to engage with and provide helpful content to your site visitors. Site search will index all your HubSpot hosted content directly on your domain as soon as you press publish."
Google Custom Search used to be the go-to search functionality for developing on HubSpot, but they've recently deprecated this tool, leaving many people wondering what the best replacement is.
Thankfully, HubSpot has finally released their native site search functionality in beta! *cue the choruses*
In the meantime, IMPACT has a blog article with a few more alternatives you can explore.
[Now Live] Visual Refresh of the Lists Tool and Activity Filters
"The Lists tool has been visually refreshed, and also includes the ability to segment contact lists based on meetings, live chats, tasks, notes, one-to-one emails, and phone calls."
Term Alert! With this update, HubSpot changed the name of Smart Lists to Active Lists.
With the new Service Hub, there are now new objects in contact records for Activity - calls, conversations, feedback, tasks, etc. You can now create list filters based on these objects.
[Now Live] Forced Required Fields When Creating a Contact in for Gmail and Outlook
"Now live is the ability for your HubSpot admin to set forced required fields for creating a new contact on the HubSpot sidebar in Gmail and Outlook."
These will be the same forced required fields you already have set up in the CRM - they'll just appear in the HubSpot sidebar of Gmail and Outlook as well now!
[Now Live] A Shareable Link for your Forms
"Forms now includes the option to create a shareable link. Users will now have the option to use the form in a HubSpot forms module, embed the form on an external site, or share the form through this shareable link."
If you've had issues embedding HubSpot forms on your non-HubSpot website - this will be a great feature for you!
The HubSpot Update that Never Went Out
HubSpot recently released GDPR compliant features, but haven't actually released an official update about it. The regulations go into effect May 25, so make sure you read up on how the regulations could affect your business.
Learn More About HubSpot's New GDPR-Compliant Features
Until Next Time
If you're listening on iTunes - head on over and leave us a review!
Until next time. This is Carina Duffy & Marcus Sheridan saying to you, go out into the world and do some happy HubSpotting!
Free Assessment:
How does your sales & marketing measure up?
Take this free, 5-minute assessment and learn what you can start doing today to boost traffic, leads, and sales.