New Pinterest weighted ads have better CX customization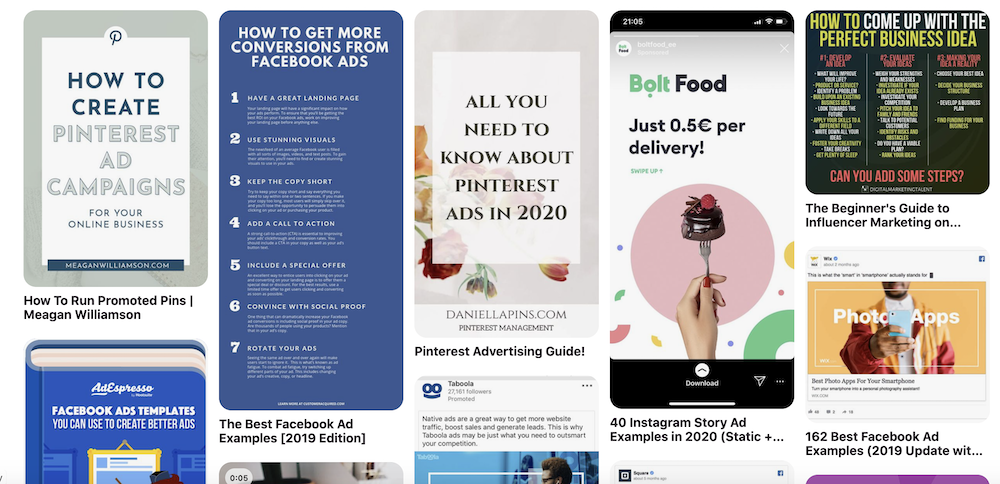 Over the last decade, Pinterest has been used by millions (320 million monthly users to be exact) to garner creativity and inspiration. Whether it be aesthetic home decor, the latest hair trends, or a fun holiday craft to entertain your children, Pinterest has a variety of categories to meet any consumer's needs.
In more recent years, the social media platform has evolved into a way for businesses to better connect with their ideal customers by creating captivating paid advertisements for their audiences. Now, roughly 48% of U.S. Pinterest users are looking to actually shop for products and services, rather than simply browse for inspiration.
🔎 Related: Pinterest launches 'Pinterest Academy' for marketers and brands
So, how can businesses ensure they are creating ads that are truly appealing to their audiences? Pinterest recently announced that it's in the process of developing a new way to enable more accurate advertising. This updated way of tracking will enable businesses to gain insight to a variety of metrics, such as click-through-rate (CTR), placement, and engagement, all in one.
Here's how brands can benefit from this update to help cultivate the ultimate customer experience.
Why click-through rate is a flawed metric on Pinterest
When creating an ad on Pinterest, there are a variety of factors to consider such as color, text, images, placement, and the overall message. But, which of these play the biggest impact on your ability to reach your audience, and how can you properly track once your ad is clicked? Historically, the answer hasn't been so simple.
CTR is a metric that helps businesses ensure they are targeting the right people, in the right location, while serving up the right content or offer. While CTR can help gain greater insight to user trends, there are still many missing pieces to the puzzle that need to be baked into the equation.
🔎 Related: Pinterest moves to support SMBs impacted by COVID-19
The assumption would be that if a consumer clicks an ad it's successful, but just because a consumer clicks on an ad doesn't mean it's automatically of interest to them. Ads can often be positioned as "clickbait," tricking the user to click the ad and then providing little value once they are actually there. Examples like this are a prime reason there is a need for extended metrics to truly understand the impact a Pinterest ad is having on the pinner.
According to Pinterest, CTR is often a flawed metric due to the inability to consider factors such as where an ad is placed on the page. Pinterest states:
Users have a number of ways they can engage with content on Pinterest besides clicking. They can Save the content to one of their boards for future inspiration or Hide it to indicate they don't want to see this sort of thing. These are rarer events than clicks, but they give strong signals of user interest in or dislike of an ad.
This poses an interesting quandary of how businesses have historically tracked ad metrics for not only Pinterest, but other ads as well.
Pinterest brings up a valuable point of how tracking an ad is not so black and white and there needs to be a deeper understanding of how ads are performing to truly gauge what is working and what isn't. Without this type of context, businesses face the threat of continuing to produce the wrong ads, for the wrong audience, and possibly even on the wrong platform.
How weighted ads will make an impact
With the above factors in mind, how can brands ensure they are getting the most accurate user information from their ads?
Pinterest has developed a new formula that will take into consideration a variety of factors, such as positive and negative engagements and placement on the page. To break it down, Pinterest explains that there is a magical equation that defines its user metric: weighted engagement ads / weighted engagement on neighboring content.
To put this simply, this equation takes into consideration positive engagements (Saves), negative engagements (Hides), and clicks — and compares performance to similarly placed organic content, also known as non-ads. By taking the average of engagements and comparing it to placement in a non-biased way, businesses will have a better understanding as to what their consumers actually want to see, allowing them to better tailor ad content.
At the end of the day, brands will have an opportunity to create a better customer experience, and in turn boost sales and overall engagement. More customized metrics result in more customized ads!
How to better optimize Pinterest ads
Now that you know how Pinterest has updated its ad metrics, how can you ensure you are fully optimizing this new equation? When creating ads for Pinterest, ask yourself the following questions:
Where will the ad be placed on the page?
What ads are consumers saving?
What ads are consumers hiding?
What other content is surrounding the ad?
How often are consumers clicking on a specific ad?
Based on the above questions, you should be able to better dictate whether you are reaching the right audience and creating the best possible ad content. As you answer these questions you will also be able to dig deeper into ad performance to evaluate your Pinterest ad strategy to set yourself up for success now and in the future.
Free Assessment:
How does your sales & marketing measure up?
Take this free, 5-minute assessment and learn what you can start doing today to boost traffic, leads, and sales.