PayPal Now Allows Access to Its E-Commerce Platform for the Average Merchant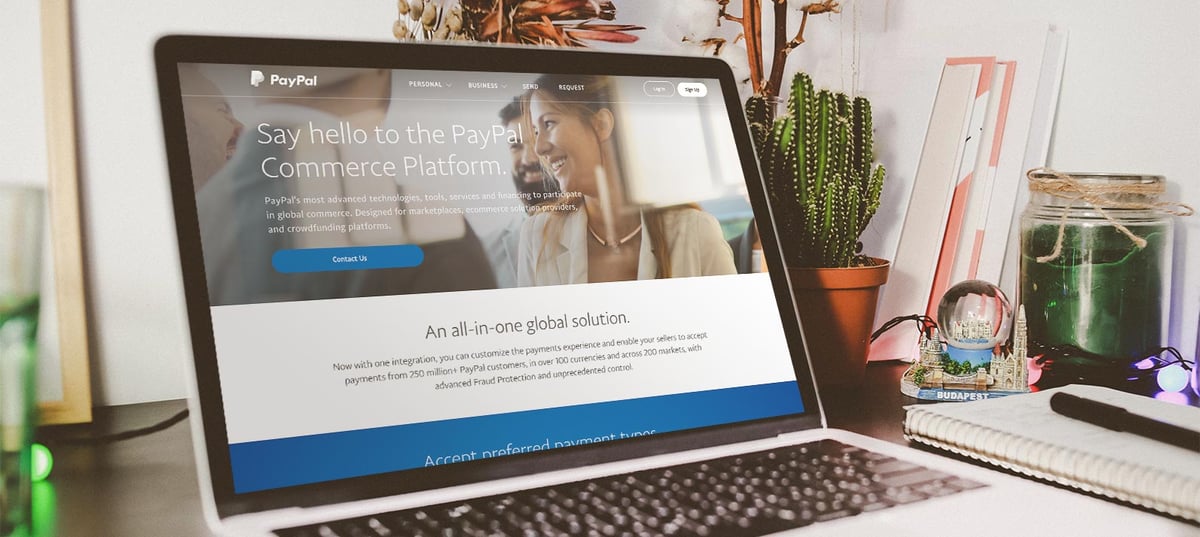 PayPal's comprehensive e-commerce platform is now accessible for businesses big and small.
Known as the 'PayPal Commerce Platform', this new tool will give businesses the ability to create customized payment solutions. This means businesses will have the chance to tackle the complex world of online commerce with a tool that helps make payments easy and minimizes friction, all while being very accessible to users all over the world.
This new tool even comes with built-in fraud protection that is powered by AI and machine learning, giving merchants peace of mind that their transactions will be safe.
If this functionality sounds familiar, that's because the tool has already existed. Instagram Checkout and Facebook Marketplace have been using the platform for the past few years. But PayPal wants to further shape the global digital commerce landscape by helping combine technologies, tools, and services businesses need to succeed.
According to Bill Ready, COO of PayPal, this will "allow companies more access to the same back-end system that allows someone to shop off of their social news feeds."
Ready's goals and vision for the platform are to vastly expand the inclusivity of the entire digital economy. When he thinks about the world in a decade, Ready says,
"I don't want there to be only one place to buy online. I want to wake up in a world where there is a thriving, vibrant, and diverse ecosystem of merchants, sellers, entrepreneurs, and businesses of all sizes."
The Advantages of PayPal Commerce Platform
PayPal wants this tool's expansion to meet the specific needs of marketplaces across the internet. The company believes this platform will give businesses of all sizes the ability to create hassle-free experiences for all transactions. In their press statement, PayPal says the Commerce Platform will:
Enable Global Growth: help businesses scale globally and connect with more than 277 million active PayPal users — and to directly accept more than 100 currencies
Simplify Compliance: help businesses meet the evolving demands of local regulators across more than 200 markets
Provide Protection: offer advanced risk and fraud tools powered by artificial intelligence and machine learning that is informed by trillions of transactions and more than 50 petabytes of data
Powers End-to-End Payment Offerings: allow access to more payment services that benefit businesses, such as mobile POS, business financing, and the ability to offer consumer credit for purchases
PayPal's and E-Commerce Growth
Up until 2015, PayPal was strictly a part of eBay. Since, it has expanded and grown significantly. Much of this growth has been achieved through the company's hyper focus on improving its products.
The three initiatives that have pinpointed this focus are improving customer choice, partnering with banks, and fostering customer loyalty.
The company's determination in these areas has very clearly translated to increased revenue for PayPal. In a statement, Ready shared that the top 20 online marketplaces grew by 40% year over year. In the first quarter of 2019, PayPal's net payment volume amounted to 161.5 billion U.S. dollars.
Their partnership initiative has also really helped further PayPal's footprint in the e-commerce landscape. For example, according to The Motley Fool 'credit-card issuers naturally want to win that default spot in users' PayPal wallets, so they've provided incentives for people to use PayPal with their bank cards.'
By building and nurturing these partnerships, PayPal has proven itself a stalwart in a never ending battle to attract as many users as possible to the platforms.
What Does This Mean for Marketers?
As we have yet to see a full rollout, there are a few questions that remain unanswered.
The first is that PayPal released no imagery showcasing the product itself. Thus, it's hard to fully understand what users could expect from this tool (or for me to even show you what it looks like).
Next, there seems to be no announced payment tiers, so it's hard to tell how affordable this will be. I imagine pricing will be controlled by number of anticipated transactions, since it sounds like most of the core features are built in for everyone. But these details remain to be known.
Aside from the cost, this tool has the potential to be utilized for a vast number of reasons.
For example, second-hand e-commerce markets have skyrocketed in revenue. Platforms like Facebook Marketplace, Poshmark, and eBay are already well-established within that space, but now smaller businesses can use this PayPal platform to create experiences similar these major players, but at a local level. For example, a used furniture marketplace could sell specifically to the Los Angeles area, using a platform that is reliable, professional, and user-friendly.
Marketers could even use the platform to control payments to a crowdsourced education hub, where people could post classes/courses (similar to a Udemy or Skillshare) that would help users improve specific skill sets. Or, it could be a platform to sell tickets to local classes and events in your area.
At the end of the day, this tool is really intended to simplify the daunting process of the e-commerce side of small to medium business (SMB) marketplace while also giving the marketplace owners the peace of mind that the system will be safe.
Free Assessment:
How does your sales & marketing measure up?
Take this free, 5-minute assessment and learn what you can start doing today to boost traffic, leads, and sales.