6 Things Missing From Your Customer Service in 2019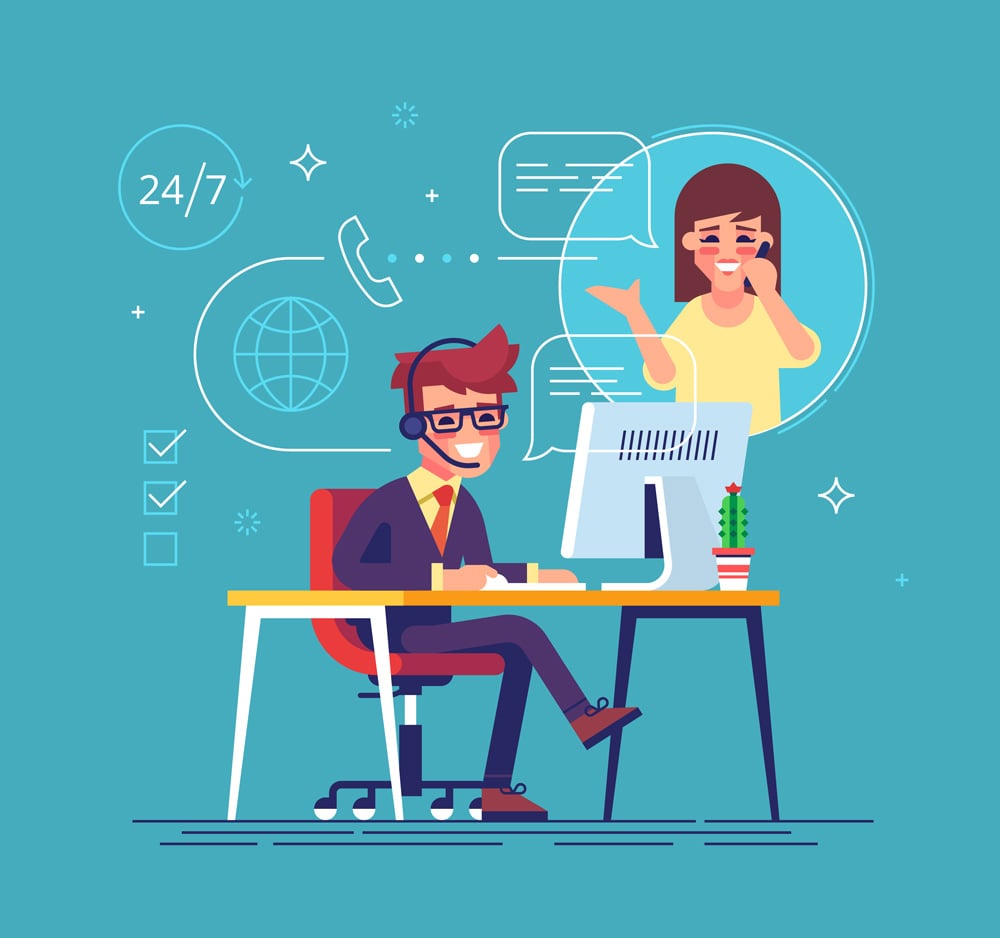 In sales and marketing, there has always been a huge emphasis on finding new customers, but now more than ever, businesses are now seeing the fruits of their labor by building long-term relationships with existing customers.
Working on customer retention has been proven to be less expensive, and can actually be more rewarding.
The importance of getting customers to return is high because, generally speaking, these types of customers tend to spend more money and are more likely to refer your business to others.
According to SumAll, when someone makes a second purchase, the likelihood of that person returning again increases from 27% to 45%, and that number grows with each additional purchase.
This brings to light the importance of customer service.
Why Your Customer Service Needs to be in Tip-Top Shape
Simply put, good customer service can mean good return on investment (ROI).
How so?
Well, good customer service leads to a better customer experience and happier customers.
A business with happy customers is more likely to thrive, and a thriving business results in more revenue.
Happy customers have a longer customer lifetime value. They make repeat purchases, provide you with social proof, can contribute user generated content, and help spread the word about you. All of which contributes to thriving ROI.
In fact, according to Bain & Company, increasing customer retention rates by just 5% increases profits anywhere from 25% to 95%.
On the other hand, poor customer service can be extremely detrimental to your business.
As Ruby Newell-Legner explained, it takes 12 positive experiences to make up for one unresolved negative experience.
Without a great customer experience you will spend a lot of time cleaning up even just one bad experience.
And don't be fooled — customer service is about way more than just being polite.
The internet and technology have dramatically changed the way people shop and interact with brands. It's easier than ever for a customer to hunt for the product they want in the way they find convenient.
If you want to stand out, you can't just have the best product on the shelf anymore.
Modern customers are looking for a whole experience. They want positive interactions with your brand, they want to be heard and to have open communication channels, they want purchasing to be easy, and they want a good product or service.
It's up to you to deliver on all of these things at the level customers expect.
In order to do that, you need to make sure you customer service strategy isn't lacking in any area.
Here's What You May Be Missing in Your Customer Service Strategy.
1. A Proactive Approach
Sure, customers will come to you if they have a problem, most of the time, but, often, they're also counting on you to monitor what's happening and catch things before they snowball.
If you're not tracking your customer health and improving your product and experience based on tracked data, you may as well kiss long-term customers goodbye.
For example, as a SaaS business, you may have subscribers add in their credit card information for recurring subscriptions.
They probably won't be paying attention to when their card expires, so their account might lapse. Don't let this happen. Send them a friendly heads up before the expiration date.
This can save them frustration in the future, as no one wants to be locked out of a service they may need in order to run their business.
Similarly, by monitoring key health metrics you can work to improve your retention rates and keep communication open and steady.
This can be as simple as monitoring mentions or replying back to social media comments and direct messages. Addressing issues before someone comes to you with them is peak proactivity.
By understanding how your customers feel and how they use your product, you can improve your relationship marketing efforts and build up your brand's reputation.
This type of proactive approach can set you apart from competition as it shows customers that you are avid on offering great customer service rather than just good customer service.
2. Speed
I know, you're only human.
Depending on the size of your team and your hours of operation, you may not be able to be there when a customer needs help, but being able to deflect a situation at a moment's notice is expected.
According to Yonyx, "77% of customers said that 6 hours is the turnaround response time they expect via email."
That means people expect you to respond to emails within the work day, and that time is even faster when it comes to in-app chat and phone calls.
This is why you need to offer real-time solutions.
Real-time solutions such as in-app chat have become increasingly popular among SaaS and e-commerce businesses.
People want instant answers, and though you may have a customer service representative working, they may be held up in prior conversations, which is why many businesses are supplementing with chatbots, too.
You may be surprised just how many people looking to contact your support team have the same simple questions to ask.
Take Bank of America's Erica, for example. The virtual assistant was created to help with the most common things people were doing like finding a local routing number or searching for a transaction.
With chatbots and automation, if someone is not readily available to talk, the customer may still be able to get some answers.
For instance, your chatbot you can share some self-service resources like links to FAQs or relevant pages based on keywords.
Fortunately, most modern chat software makes this more achievable with AI and has come a long way from the simplistic and super obvious robot responses. In fact, you can easily create a chatbot for free using tools like HubSpot Conversations or Pure Chat.
You can always follow up personally to put the cherry on top, but this way customers are given some sort of help and can learn how to work towards a solution without necessarily submitting a trouble ticket.
3. Advanced Personalization
We've heard this over and over again: personalization is key, but simply using the contact's first name in the greeting of an email is not enough anymore.
Now personalizing your entire customer experience is necessary, especially when you're B2B.
B2B purchases tend to be longer term and come with a higher price tag than B2C, which means trust and relationships are that much more important.
B2B customers expect you to have researched their needs and history even before working with them, so it's only natural that their expectations would only increase once they sign on.
Depending on the nature of your business, you need to be able to know the ins and outs of your customer's relationship with you — what do they buy from you, how long have they been working with you, why did they buy from you, what needs are they trying to meet, what issues, if any, have they had in the past?
These details can help you deliver a more in-depth, catered customer service experience and avoid annoying repetition.
It also helps the customer feel like they have an ally and friend at your company; not like they're just another name or number on your roster.
4. Interactive Learning Resources
Picture this: you finally get access to your team's new software but you're not fully familiar with how to use it yet. Where do you turn for guidance? Modern consumers may look to YouTube for a video tutorial or go to an online community to ask their peers.
Gone are the days of reading long instruction manuals and looking through knowledge bases. When getting started with a new service, modern consumers want to see a demo or visual walk-through.
They want to be taught and guided through steps visually, not just left with a novel to read.
You have to be up for this shift in customer service with the right resources.
If you're SaaS company, for example, walkthrough guides and explainer videos are in high demand.
Consider creating a variety of videos that can be used to answer your customers' most common questions or explain how specific processes work.
Additionally, adding interactive walkthroughs and demos of how to use different tools will dramatically decrease any learning curve, help people get more out of your product quickly, and in turn, create a better experience.
Furthermore, your customer service representatives should be ready and willing to hop on a call for a quick screen share or to schedule a video meeting with a customer when needed.
Interactive resources are great, but sometimes speaking to someone and having a personalized demonstration is more effective.
5. Human Interaction
Automation is great. It helps us efficiently and consistently complete those mundane but necessary tasks.
We may send notifications, email reminders, and even chatbot responses while we're away, but these don't always stand on their own.
Automation should not replace human interaction. Rather, it should be an aide to human interaction.
For instance, you may be able to automate sending someone your calendar link, which allows them to schedule time on your calendar when you can meet face-to-face. Many people want one-on-one meetings (including video chats and phone calls) to help them further understand the product or service they're using.
This is especially helpful for new clients just starting out with a new software or platform.
This type of human interaction helps them put a face to the company, and better yet, can make the process of understanding and learning a process much easier. This sets your customers up for long term success by starting off on the right foot.
Another option for adding the human element lives within your chatbot. Chatbots can be a great solution for quickly answering your customers' most common questions. However, visitors may not always be able to find the answer they're looking for via your bot. In this case, it helps to offer an option to talk to a real person.
Just remember, if you're going to make your team available via live chat, be sure to state your online and offline hours and give people a way to leave their contact information so you can get back to them.
An example of a company effectively integrating human interaction in their customer service is HubSpot, which infuses the human element into many aspects of their support.
HubSpot has a variety of searchable and self-help options available but also offer live chat as well as the option to call them directly. There are even more options available to customers who are logged in.
6. Social Media
Social media isn't just for promoting and getting word of mouth marketing; it's for communicating with your customers as well.
In fact, you may find a good handful of customers or potential leads reaching out to you on your Facebook, Twitter, or Instagram.
Why is this?
Well, most people who want to talk to someone or learn a little bit more about your company want to reach out in the easiest way possible.
Research done by Accenture states that 51% of U.S. consumers are loyal to brands that interact with them through their preferred channels, and for many, that is social media.
Rather than calling and being put on hold, or being tossed from one representative to the next, social media feels more user-centered.
Many people treat these types of messages like email; they send their inquiry and go about their day while they wait for a response.
That being said, here are a few universal tips for making sure you're using social media effectively in your customer service:
Respond in a timely fashion. We get it, you're not glued to your computer. However, responding to customers or prospects who reach out to you on social media as soon as possible is vital. Sometimes, people just want to be heard, and simply responding to them shows that you care. Dan Gingiss, author of Social Customer Care, says that "once people share positive or negative experiences on social, then there's an expectation that the brand steps in and engages back."


Don't ignore negative comments. With Twitter at the tips of our fingers, it's common for people to use social media as a way to vent about issues they're having with products or brands. As found in an American Express survey, "Americans tell on average 15 people about poor experiences." While you don't need to engage with every troll or spammer, a disgruntled customer situation should be addressed. If it's not, you might find yourself dealing with a mess to clean up. Remember: it takes 12 positive experiences to make up for one unresolved bad one!


Make sure to monitor your mentions. With so much chatter happening across social networks, it can be easy to miss mentions of your brand. Maybe someone doesn't tag your profile or message you directly but they still mention you by name. There are many great tools out there for social listening such as Sprout Social and Agorapulse. Monitoring for social mentions of your brand will bring to light more opportunities to engage with positive comments and avoid unresolved disgruntled customer situations.


Stay On Top Of Your Customer Service Game!
Don't let bad customer service lead to negative reviews, lost customers, and worst of all, a bad reputation for your brand.
Be proactive about your customer service. Create helpful videos and knowledge base articles for easy self help. Use your social media profiles for engaging and building relationships with your customers.
By implementing these strategies, your customer service will be set up for success. Just remember, what your customers want and how they behave will likely continue to change with the times, as will their expectations of brands. Keep your finger on the pulse and adapt your customer service accordingly.
Free Assessment:
How does your sales & marketing measure up?
Take this free, 5-minute assessment and learn what you can start doing today to boost traffic, leads, and sales.