6 biggest digital marketing news stories of 2020 to plan for 2021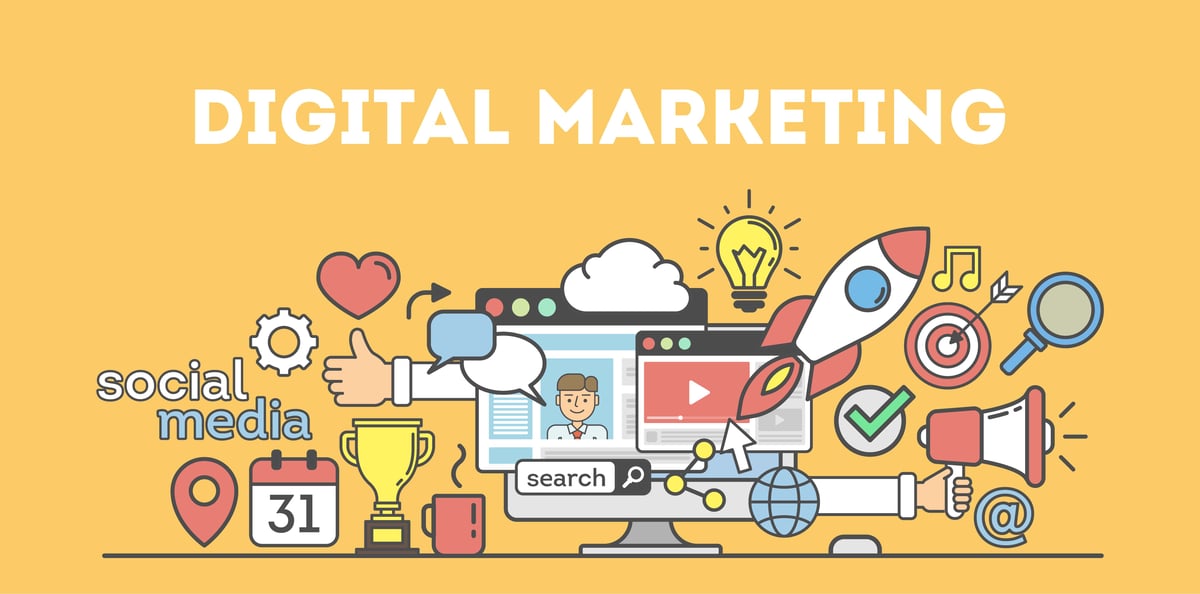 Digital marketing news stories of 2020
Pandemic pushes shoppers to go online and local
Consumers spend 22% more on online shopping for 2020 Black Friday and Cyber Monday
YouTube and Twitch see viewership increases of over 30%
Virtual event platforms and tools emerge as in-person events are canceled
Google's December Core Update is the biggest of 2020
Big tech/social media clash with government legislators
You spent weeks, if not months, planning out your digital marketing strategies for 2020. You had a game plan to start new programs like producing videos for your company in-house or running extravagant paid advertising campaigns.
Then the world had other plans.
In a nutshell, 2020 was the year of adaptation and survival — even when it came to digital marketing. Budgets got slashed, doors closed, and businesses struggled to stay afloat. Beautiful plans became mad dashes to stay above water.
The beauty of this, however, is that it accelerated trends we already knew were beginning to form as well as formed new trends, all of which we can plan to run into as we turn towards 2021.
I have compiled the major news digital marketing news stories in 2020 that you need to remember and account for as you plan for 2021:
Shopper habits took what were once a slow-building trend of online shopping and buying local and made them practically a requirement in 2020.
With businesses having to close their physical doors around the world, the rise of e-commerce shopping was monumental. According to Salesforce, Global digital sales grew 45% year over year to reach $181 million Dec. 1- Dec. 14.
While at first, it was out of necessity to avoid contracting or spreading the virus, e-commerce shopping appears to have become a staple in the purchasing habits of more consumers than ever. In fact, a report published by Shopify found 81% of consumers plan to continue shopping online even after 2020.
Buying local also became a major consumer trend as small businesses struggled to stay afloat during the pandemic. In that same Shopify report, more than 57% of buyers are seeking out local, independently-owned businesses to purchase from and support. Further, 61% of consumers plan to continue purchasing from these local businesses in the future.
How does this affect your 2021 digital marketing strategy?
For small businesses, focusing on geographic location could be a big play in your 2021 strategy. Consumers are seeking out local businesses, so developing ways to highlight this and get found will be huge.
Some opportunities include targeted advertising in a geographic area, updating your Google My Business page to include relevant information to ensure you are performing with SEO, including your address, hours of operation, frequently asked questions, phone number, and reviews.
Furthermore, if you are someone who offers a product that can be sold online, invest in a long-term e-commerce solution as that will not be going anywhere anytime soon. You should also consider opportunities to optimize your website for purchasing
Take advantage of consumers wanting to purchase local and set yourself up for long term success by investing in the customer experience and ease of discovery when it comes to finding your business online.
Black Friday wasn't the normal chaotic shopping experience we have seen in the past. Lines of people anxiously waiting to trample each other for the best TV deal were replaced with the loaded virtual carts of consumers on their favorite e-commerce sites.
With consumers shifting to virtual shopping, businesses quickly shifted to online advertising to get their products and deals in front of their customer base.
In her article, Retailers aimed to avoid Black Friday crunch with early paid ads, IMPACT Account Manager Lexie Ward details the shift to online for consumers and how businesses responded this holiday season:
"Instead of a day or two of deals, you may have noticed brands starting to roll out special Black Friday or holiday deals shortly after the election [on November 3rd]. With many retailers offering deals over a longer-span of time, they are investing more time in their online marketing campaigns in hopes of seeing higher ROI… Testing and finding what works best will allow you to spend your ad money smarter on the high-volume days, and have insight into what offer will be the most successful."
How does this affect your 2021 digital marketing strategy?
The shift to online has been looming over Black Friday, Cyber Monday, and other shopping focused holidays for several years. With how 2020 turned out, this trend has now become our reality and likely our future for these holidays. This means two things:
There are a lot more consumers looking to buy online
There are a lot more competitors looking to sell online
That's why paid advertising will be your differentiator. However, you need to be smart when it comes to budgeting and planning your campaigns.
If you have done paid advertising before, you know that they require time to be effective. It isn't a simple "turn them on and see the money roll in" formula.
Not only that, you should expect to invest in longer deals and longer advertising campaigns for future years during peak buying cycles. Stores are extending their deals for days, if not weeks both before and after these peak shopping holidays, meaning you will want to be connecting with consumers early and often.
With that in mind, you can't be afraid to test different strategies when it comes to your ads. Whether you are using Google ads for search or social media like Facebook or Instagram ads, testing strategies early and learning from campaigns that didn't work effectively will give you the insight will help you to build your advertising strategies for years to come.
We've known that video is growing in popularity for a long time, but even with that in mind, the rise in video consumption we saw in 2020 was massive.
With so many people stuck at home, many turned online or to streaming services for their entertainment needs.
YouTube content creators reported seeing 20-30% increases in video views. That kind of growth, while it may have happened over the next couple of years, is monumental given the size. Live streaming platforms such as Twitch and Facebook Live saw similar increases in viewership (~30%).
How does this affect your 2021 digital marketing strategy?
Consumers are seeking video content first, both for research and for enjoyment. Over time, video is going to become a bigger and bigger player for digital marketers, so getting on the bandwagon now will pay dividends in the future.
These video platforms are perfect avenues to better connect with your audience. There are several opportunities that come to mind for your digital marketing strategy.
The first and perhaps most clear is to launch a YouTube channel for your brand! YouTube is a massive search engine that your audience is likely already using. Even if you have a limited budget for your YouTube channel, now is the time to start creating video content and sharing it with your audience.
On the live streaming side, how can your organization better engage with your desired or preferred audience? Do a live-streamed walkthrough of your workspace, create live Q&As with your subject matter experts, or present a new product or service offering!
There are a lot of opportunities with video and since consumers are shifting to a video first engagement, now's the time to join the party.
The events world especially got turned on its head in 2020. In-person events got postponed left and right, with some being able to pivot to virtual experiences and others that were forced to cancel their events altogether.
For example, IMPACT and HubSpot both pivoted their major in-person events for 2020 (Digital Sales & Marketing World and INBOUND respectively) over to virtual platforms because of the pandemic.
As virtual events quickly became the norm, new virtual event platforms and meeting tools began popping up all over the place. For event producers and managers like myself, we explored numerous platforms across all price ranges to figure out which platforms were best. As you could imagine, that can be pretty difficult when new ones appear one after the other.
There were also some very accessible low-cost event options launched by top names in digital marketing. Popular video platform Zoom launched its very own event platform, OnZoom as well as LinkedIn, which launched its tool Virtual Events, built right in the platform.
Some brands even rebuilt their offerings to help support the changing demand for virtual events. Circa, once in-person event logistics company EventGeek, completely redesigned their offerings to be virtual event technology-focused.
How does this affect your 2021 digital marketing strategy?
For many consumers at this point and time, the likelihood of traveling in 2021 is slim to none, whether it be personal reasons, the policies of their companies, or government regulations on travel.
The question is, will this trend of virtual events continue into 2021? The answer is yes.
In a survey published by Condé Nast, who hosted over 200 virtual events in 2020, 90% of respondents said that even once live in-person events are back, they would still be interested in the virtual offerings.
On a more personal experience, IMPACT received a lot of this feedback as well saying that virtual events may be even better than in-person events.
Virtual events are evolving and improving as well. The experiences not only add increased flexibility for attendees, but they are also becoming more exciting and worthwhile than ever before.
The opportunity to host virtual events and to connect with your customers and prospects through these virtual experiences has never been easier.
Even with the unpredictability of what is to come in 2021, it's safe to say that virtual events are not going anywhere. Whether you want to invest in a high-tech event platform or something more budget-friendly, now is the time to experiment with virtual events for your organization and take advantage of the opportunities they pose.
Google's December core update was one of the largest in recent memory. The update rolled out on December 3 and completed approximately two weeks later on December 16.
What was unique to this update is that compared to the typical three to four months between updates, this marked the longest period between core updates to date for Google at seven months.
While there are only a few weeks of data collected on the effects the update on website and SEO performance across different industries, there appears to be more weight associated with this update than the prior updates we saw in May 2020 and January 2020. (Note: More data may be available after publication.)
According to Search Engine Land, "Many who were either negatively or positively impacted saw gains or declines of 10% to over 100% of their previous levels of organic search traffic."
More specifically, the update seemed to greatly influence the top three search results, with volatility numbers spiking pretty dramatically at ~55% according to RankRanger compared to 38% with the May 2020 core update.
How does this affect your 2021 digital marketing strategy?
If you saw a change in your traffic, it likely means your site was influenced by the December core update. Given the normal cadence of Google's core updates, this likely means that you'll need to prepare for the long haul.
Now, if you saw a nice jump in traffic since the rollout on December 3, woohoo! That means you are in Google's good graces and that your SEO strategy is working. Make sure you keep the pedal to the metal these next few months.
On the flip side, if you saw a drop in traffic, it's not 100% clear if there may be wrong with your pages or your website. However, you will want to dive into your analytics and performance data over the last few months and see how you can better optimize your website so your website doesn't continue to struggle in the coming months before the next update arrives.
It is clear that national and international governing bodies are struggling to regulate big tech organizations.
Throughout 2020, there were several significant legal battles, lawsuits, and even threats of banning household organizations like Google, Facebook, and TikTok.
The Department of Justice (DOJ) brought a lawsuit against Google for their exclusive, anti-competitive partnerships, arguing they are building a monopoly in the search and online advertising space.
Facebook faces similar lawsuits from the Federal Trade Commission after an investigation on anti-competitive claims that included 46 states and the United States Government threatened to ban TikTok from use in the U.S. due to data vulnerability.
While it always feels like these tech companies are one step ahead of our governing body, you can tell that these government institutions are looking to catch up quickly.
How does this affect your 2021 digital marketing strategy?
Given the weight tech companies like Google carry in our ability to carry out our job responsibilities and to make our companies successful from a digital marketing perspective, the best thing we can do right now is be mindful and monitor the news as this tug of war continues.
At the same time, an actionable step to take is to evaluate the current technology stack your company uses to ensure your data is safely collected and stored as well as to ensure that you have contingency plans should something happen with one of these major technology platforms. Also make sure that you are not misusing your contacts' data or invading their privacy.
You absolutely should not make any major reactionary changes based on these legal battles, however, your digital marketing strategy and perhaps your business as a whole need to be prepared that changes may come down the line that will result in us having to make big pivots.
2020 brought rapid adjustments, 2021 brings the new reality
No one is in the position to say 2021 will be easier, harder, better, or worse than 2020 was, but if there's anything that you can take away from how 2020 went, it's that the future is here.
Shopping has gone online, video is king, and the technology giants are ready to rumble. While these weren't brand new to 2020, they certainly were accelerated to where they are now.
What does this mean for you? The way we do business is changing and, whether we like it or not, so is our digital marketing.
Whether that is building virtual events, starting a YouTube channel, or preparing an e-commerce alternative for your business, 2021 is going to challenge us all once again to create digital marketing strategies built to last long term. Time to hunker down and make it happen!
Free Assessment:
How does your inbound marketing measure up?
Take this free, 5-minute assessment and learn what you can start doing today to boost traffic, leads, and sales.
Get Started
Free Assessment:
How does your inbound marketing measure up?
Take this free, 5-minute assessment and learn what you can start doing today to boost traffic, leads, and sales.
Published on December 29, 2020