How to work from home for the first time — and love it [Infographic]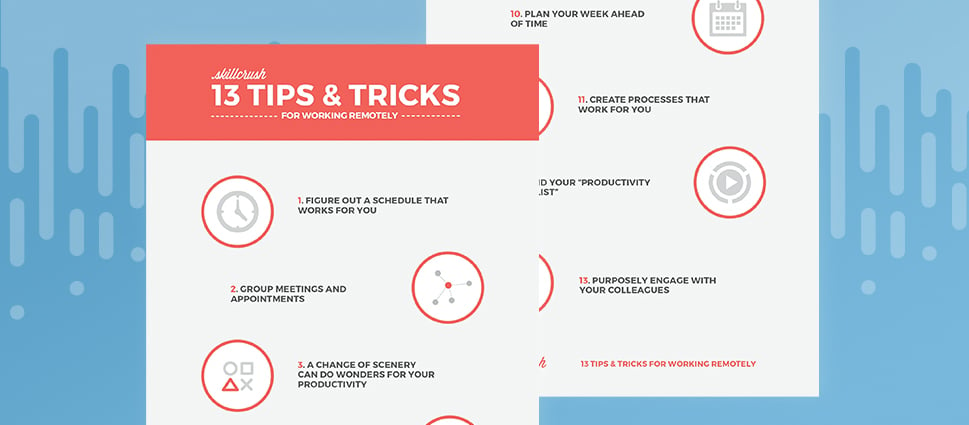 Due to the coronavirus, many of you reading this probably find yourself in the same position I'm in:
A remote work newbie.
While IMPACT's been a remote-friendly company for almost six years now, I've always preferred actually going into the office.
I enjoy my daily routine of listening to a podcast while driving into work, being able to laugh and eat lunch with my co-workers in person, and overall just having a separate place from my home dedicated to getting sh!t done.
However, with coronavirus cases surpassing more than 230,000 cases worldwide, many companies are rolling out mandatory work-from-home policies in order to slow the spread and flatten the curve.
Even tech giants like Google, Microsoft, Twitter, and Apple are following suit.
However, the sudden shift to remote work has left many people trying to charter the unfamiliar waters of working from home.
For many, it can be a tough change to get used to. I know I've personally struggled with finding a new routine. My first few days of working remotely I didn't even remember to stop to eat lunch!
Other remote employees may struggle with things like loneliness, managing their time, and communication with other coworkers.
Fortunately, the internet is a beautiful thing, and after doing a little research, I was able to find a handful of articles that provided me with a lot of helpful recommendations for working remotely.
One article that really helped me figure out a strategy for working from home was an infographic from the team over at Skillcrush.
In the infographic, they cover 13 of their most useful tips to help you adjust to working remotely. Some of my favorite tips from the infographic include:
Figure out a schedule that works for you:
One of the toughest things for me to adjust to has been getting used to a new schedule. I no longer have a commute to worry about in the morning and already being home makes it much more difficult to stop working at night.
With this in mind, I had to figure out a new work schedule that kept me from getting burnt out while also keeping me productive.
Rather than waking up at my normal time and getting right to work, I now wake up and try to do one non-work related thing before I sit at my desk for the day. Sometimes it'll be yoga, some light reading, or even just watching the morning news for a bit.
Figuring out a working schedule that works for you is one of the most important things you can do. It'll help you balance your work and home life and keep you from getting burnt out.
Invest in a dedicated workspace:
Another way to help maintain your work-life balance is find a dedicated area of your home to use for work. Try and find a space where you can easily stop working for the day and get away from to relax and unwind.
It can seem easy and logical to just set up shop at your kitchen or dining room table, but that makes it harder for you to mentally separate yourself from work at the end of the day.
Not to mention every time you want to use your table for other things, you now need to clean up your work stuff and put it away.
Don't work in your pajamas
This one seemed a little strange to me at first. Initially, I thought if I have to work from home, I'm at least going to reap the rewards of being able to work in my pajamas all day.
While my introverted homebody soul told me this was the right thing to do, I did notice I had a harder time switching from relax mode to work mode.
As soon as I started getting ready as if I was going into the office, I noticed that it helped me signal to my brain that it's time for work. I instantly felt more productive.
You don't necessarily need to put on a button-down shirt and khakis, but changing into something that you didn't wear to bed will help jump-start your days and get you moving.
Check out the full list of tips in the infographic below!
And if you're looking for additional strategies for staying productive and positive while working at home; IMPACT's own Genna Lepore just wrote an insightful article where she polled our team for their favorite tips and tricks.

Free Assessment:
How does your sales & marketing measure up?
Take this free, 5-minute assessment and learn what you can start doing today to boost traffic, leads, and sales.