7 eye-opening employee turnover statistics and what they mean for you [Infographic]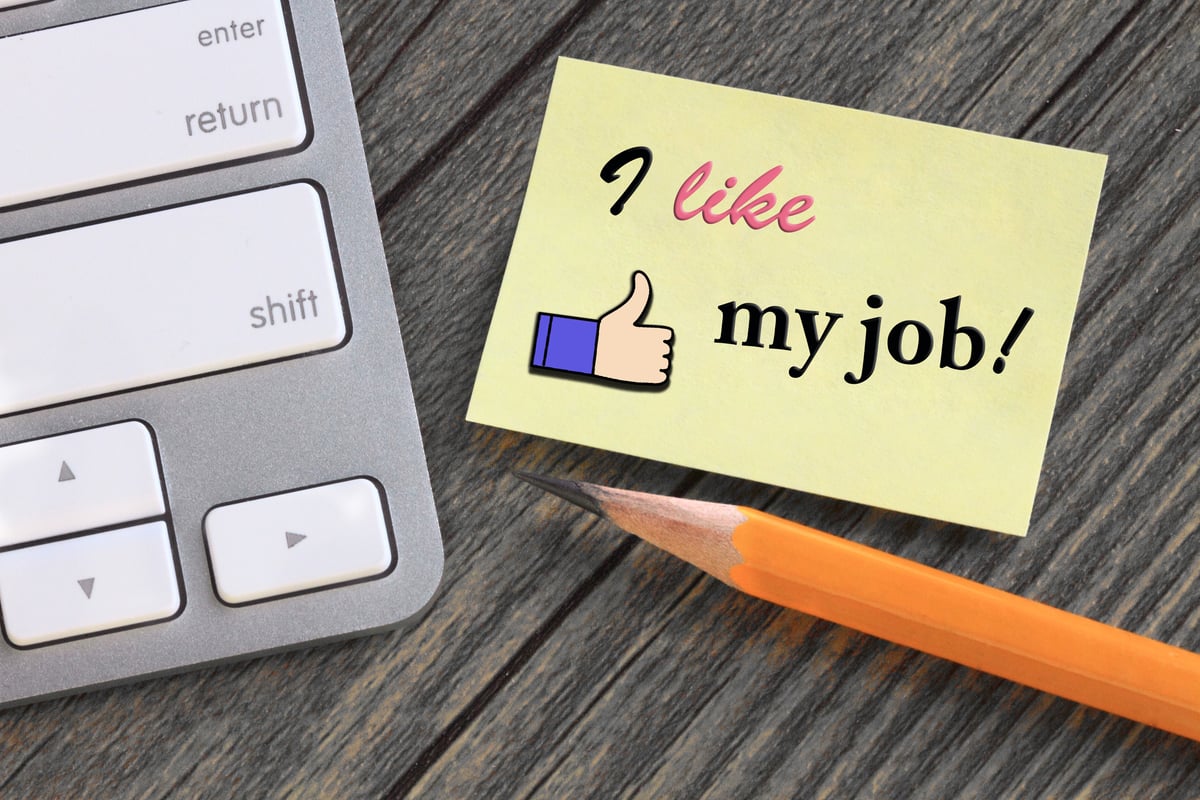 At IMPACT, we've had our fair share of employee turnover. Luckily, we were able to pull ourselves back up and rebuild after experiencing the turnover of over 60% of our team in 2015.
However, just because we got through our roughest patch of employee turnover doesn't mean that we couldn't experience it all over again — maybe without such a happy ending.
Because of this honest truth, we're constantly focused on all aspects of employee happiness so we can make IMPACT a place that people don't want to leave.
I do my best to keep up on turnover statistics so I can better understand why employees leave companies, what keeps them around, and what I can specifically focus on getting ahead of before employees start thinking about leaving.
That's why I came across this infographic. It offered some really great insight into the current state of employee turnover and provides some guidance on what employers should be focusing on.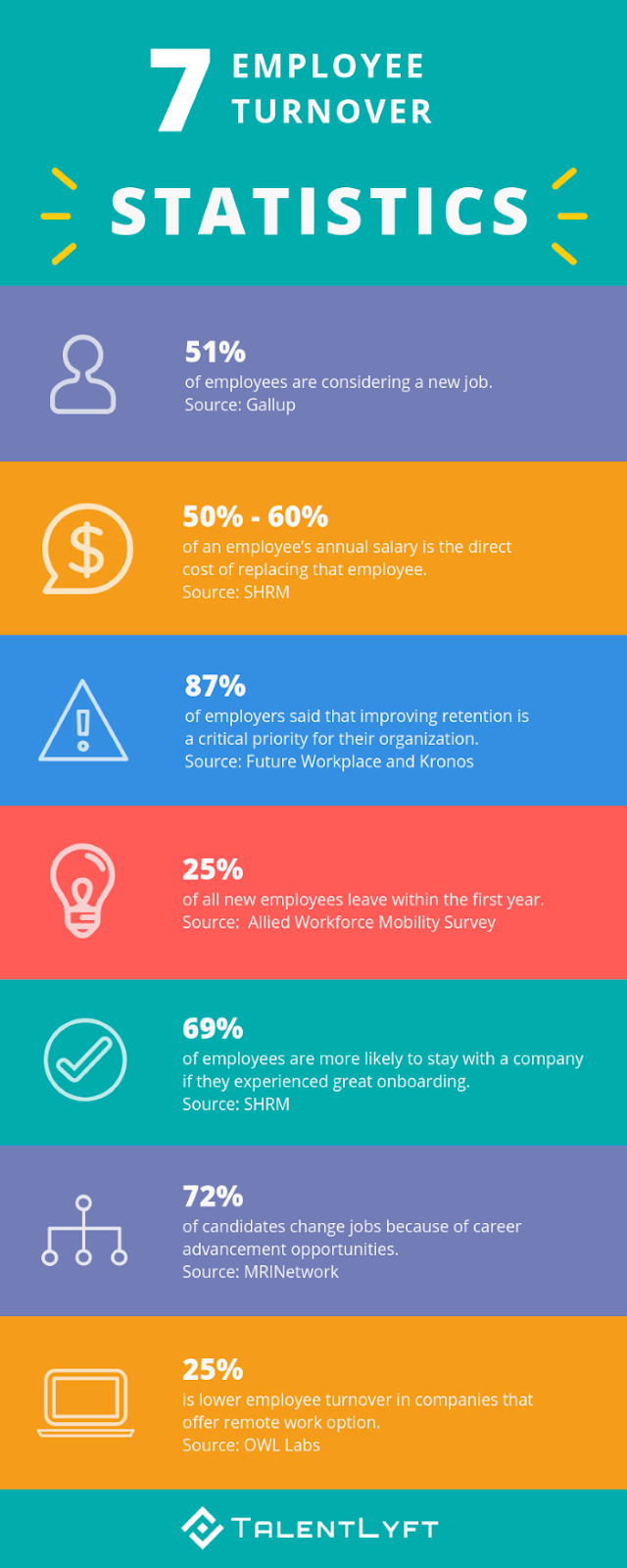 What can you do to avoid becoming a statistic?
Now that you understand the statistics behind employee turnover, what can you do to lower your risk of experiencing it?
Below I outline my thought process when reading each one of these stats, and what we have done or plan to do in order to keep turnover at bay.
51% of employees are considering a new job.
Imagine coming into work one morning and 51% of your team gives you their two-week notice.
Okay...so maybe all at once isn't too realistic. But doesn't it put you on edge just knowing half your team is considering jumping ship? I sure hope you have Indeed on speed dial!
My initial thought when I read this statistic is what you can do to address the issues of your unhappy employees before they get to the point where they start looking for another job?
At IMPACT we do a couple things:

Quarterly employee surveys: As described in more detail in this article about employee retention, we send out quarterly team surveys to evaluate the overall happiness of our team. The leadership team has access to the results, and the VP of Talent provides a summary report to the leadership team that highlights the biggest issues that we need to focus on.
Employee advisory committee: In addition to gathering feedback from our quarterly surveys, we formed a committee that meets monthly to discuss the current challenges of the employees and ways we can improve. The team rotates out every six months for new people, and it has at least one person from every department and a variety of different seniority levels. This gives us insight into all different parts of the company and the employee experience.
50% — 60% of an employee's annual salary is the direct cost of replacing that employee.
As if losing a key player on your team wasn't bad enough on its own, it's also going to cost you a pretty penny. Checking in on employee happiness isn't just a nice thing to do, it's a financially responsible thing to do.
In addition to the ways we collect employee feedback that I discussed above, we also bring it down to an individual level. These are a couple ways we do that:

Weekly team happiness check-ins: Every week, every team meets to do a retrospective of the past workweek. During those meetings, everyone gives a happiness score on a scale of 1-10. If an employee gives a low score, it's a red flag for a manager to address before it gets worse.
One-on-ones: Speaking of managers, everyone has regularly scheduled one-on-one meetings with their manager. Depending on the employee's preference, the meetings can be weekly, bi-weekly, or monthly. This allows managers to really understand how their team members are feeling and dig into any issues.
87% of employers said that improving retention is a critical priority for their organization.
It's great that so many employers are willing to focus their efforts on improving retention. Is your company one of them?
I've discussed the various ways we get feedback from our current employees in order to help with retention, but you know who is also great to get feedback from? The ones who are on their way out.
Direct feedback from a soon to be ex-employee about why they're leaving is some of the most important information you can get when it comes to retention. Even with all of the surveys in place and seemingly great office culture, employees can still surprise you at any time and give their notice. It's critical that you find out why before the next employee leaves for the same reason(s).
At IMPACT, we do exit interviews with everyone who is leaving our team. We ask all of the relevant questions on this list:

What caused you to start looking for a new job in the first place?
What are your main reasons for leaving IMPACT?
Have you shared your concerns with anyone in the company prior to deciding to leave? What was the response?
What does your new company offer that encouraged you to accept their offer and leave this company?
What do you value about IMPACT?
What did you dislike about IMPACT?
How was your relationship with your manager?
What are your views about management and leadership, in general, in the company?
What did you like most about your job?
What did you dislike about your job? What would you change about your job?
Do you feel you had the resources and support necessary to accomplish your job? If not, what was missing?
What is your experience of employee morale and motivation in the company?
Did you have clear goals and know what was expected of you in your job?
What could we have done for you to remain employed here?
Would you recommend working at IMPACT to a friend?
The answers to these questions will likely reveal things you didn't know or see, opening your eyes to other reasons you might lose additional employees.
25% of all new employees leave within the first year.
It doesn't take a new employee very long to figure out they made a bad decision. In fact, according to the Society for Human Resource Management, "nearly 90 percent of employees decide whether to stay or go within that first six months." If you don't have a solid plan in place that focuses on a new employee's experience, you'll likely feel the pain in your turnover numbers.
Because of this, you need to put a lot of focus on creating and updating your new employee onboarding program. This program should highly focus on three key timeframes:

The employee's experience between signing the job offer and their first day. A lot of people think onboarding doesn't start until the new employee's first day. However, leaving them in the dark during this timeframe probably doesn't give them a warm and fuzzy feeling. Consider sending them a welcome package with company swag, early access to accounts like Slack to introduce themselves, or setting them up with meet-and-greets with other team members.
The employee's first day/week. Employees are highly vulnerable during their first day at a new job, and probably even for weeks to come. Onboarding can feel awkward, unknown, and really uncomfortable if not done well. Put yourself in the new employee's shoes, and try to uncover the things they'll be most nervous about at different points of the onboarding process. For instance:

How do I get into the building?
Where do I sit?
How am I going to meet people?
What do I do for lunch?
What do I work on my first week?
From there, provide the answers to each of these questions before they have a chance to become concerns.

The following months at least leading up to their six-month mark. Onboarding activities should at least go up to the six-month mark, if not further. Sometimes it can take employees a year to feel fully onboarded to a company. At IMPACT, I schedule check-ins throughout an employee's first six-month, and employees all have regular one-on-ones with their managers. This helps us get ahead of any issues the employee may be having before they start looking for a new job.
69% of employees are likely to stay with a company if they experienced great onboarding.
As mentioned above, having a great onboarding plan for new employees is crucial for retention.
In order to make sure your plan is up to par, get consistent feedback from every new employee during and after their onboarding. At IMPACT, we schedule "official" check-ins with new employees at their one-week, one-month, three-month, and six-month marks in order to get feedback on the onboarding and make sure everything is going well. From there, we'll go back and revise our process so it's always improving.
72% of candidates change jobs because of career advancement opportunities.
Employees want to know what their future looks like at your company. In order to give them the information they want and to compete with other companies, make sure you're at least doing the following:
Regularly discuss advancement with your team and what they need to do to move up.
Promote people when you can instead of hiring from the outside.
Allow employees to apply to all open roles so they have the option to move into a new position.
25% lower employee turnover exists in companies that offer remote work options.
Can any of the jobs at your company be done remotely? If so, you should seriously consider offering remote options to your employees. Whether you offer full-time remote options or even a day a week, employees will appreciate the flexibility and it should help reduce turnover.
At IMPACT, we didn't always have such a large remote team, and we've learned a lot of best practices along the way. If you are considering offering remote opportunities, this article about our initial remote struggles and wins should provide some guidance to get started.
One stat at a time
If you're struggling with retention, all of these statistics and suggestions are probably very overwhelming. Take a closer look and determine the most important areas for your company to focus on, and address one or two at a time. In addition, make sure to track your turnover rate regularly to see if your efforts are paying off!
Free Assessment:
How does your sales & marketing measure up?
Take this free, 5-minute assessment and learn what you can start doing today to boost traffic, leads, and sales.